Developmental Disabilities License
x Close
Developmental Disabilities License
Obtaining your Developmental Disabilities License is about more than being a great teacher. It's about preparing your students for excellence.
Our Developmental Disabilities License program will prepare you to more effectively serve students with a range of intellectual disabilities. You'll learn about a variety of assessment tools, evidence-based teaching strategies, and interventions. And you'll receive valuable experience that will give you the confidence to apply those skills to various educational settings.
Program Option(s)
With our Developmental Disabilities License, you'll become adept at implementing and adapting evidence-based instruction methods that will meet the needs of your students with developmental cognitive disabilities and help them succeed. If you're not already a licensed teacher, you will have to complete the Standards of Effective Practice concentration, which meets the Minnesota Standards of Effective Practice, a requirement for every Tier 3 and Tier 4 K-12 licensed teacher in Minnesota.
| | |
| --- | --- |
| Deliveries | Blended, and Online |
| Location | St. Paul |
| Tuition per Credit | $545 |
| Estimated Total Tuition | $19,620* |
* These program details and costs are estimated and subject to change. View our program details disclaimer for more information.
Recent News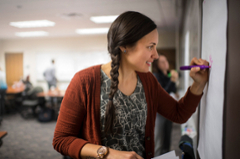 We believe everyone has a story to tell. Envision how Bethel could become part of yours.

Latest News and Stories
Program Highlights
Experienced professors
Bethel's special education professors are leading researchers and practitioners in the field with experience in multiple specialties, bringing personal experience to your learning to make coursework relevant to the real-world classroom.
Practical experience
You'll have opportunities to practice what you're learning through clinical experiences so when you've completed the program you can make a real difference in the K-12 educational setting.
Flexibility
We know many of our students work full time, have families, and are involved in their community while in graduate school. Our schedules make it easier for you to complete your program during times that work best for you.
Outcomes
This license will give you the knowledge and skills to prepare your students for excellence.
Skills
Learn how to:
Apply effective strategies to support improved student outcomes
Collaborate with professionals within and outside of schools
Create professional development practices
Design and implement appropriate interventions
Modify teaching strategies for individual students