Biokinetics
Biokinetics is about more than exercise. It's about using science to promote healthy lives.
The Biokinetics major prepares applied scientists who can address a wide range of health needs related to lifestyle, aging, physical performance, and inactivity. You'll examine human biological systems and their reaction to stressors on the body in order to develop strategies for preventing disease and injury, improving physical performance, and increasing quality of life.
Majors, Minors, and Programs
Recent News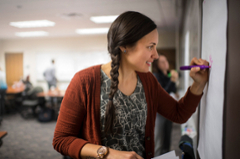 We believe everyone has a story to tell. Envision how Bethel could become part of yours.

Latest News and Stories
Upcoming Events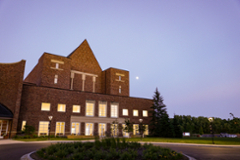 See yourself at Bethel—join us for one of our in-person or virtual events!

More Events
A Top Program, Defined by Faith
What is biokinetics?
"Bio" = study of life and living organisms
"kinetics" = (1) physics: study of bodies and system in motion and at rest and (2) chemistry: rate of chemical reactions
The name represents the deep cross-discipline nature of the major. The core curriculum includes courses from multiple natural sciences (biology, chemistry, physics, and psychology) and upper-level applied courses within the program to focus on the human system.
Bethel's fast-growing Biokinetics program prepares students to serve and lead as they promote health and wellness in all aspects of life. It's about cutting-edge, award-winning research, collaboration with distinguished professors, integrated academics to prepare you for a wide range of careers, and hands-on experience in our Exercise Medicine and Prevention Center (EMPC)—all within a Christian learning environment. It's about taking our faith in Christ and integrating it into everything we learn, into everything we do, so we can accomplish incredible things—in our careers, in our communities, and in our world.
97%
recent graduates are employed or in graduate school
91%
of seniors rank their Bethel education good or excellent
Program Highlights
Award-winning student research
Collaborate with professors on original research projects that will prepare you for your career or graduate school.
Hands-on clinical experience
You'll gain experience outside the typical classroom setting through teaching experiences, simulations, internships, and research in our student-run Exercise Medicine and Prevention Center.
State-of-the-art facilities
Our department is equipped with the latest hardware and software to study applied human physiology and anatomy.
Integrated academics
Your academic experience will include courses in a variety of disciplines, preparing you for a wide range of careers.
Student community
Students are encouraged to join the Bethel University Biokinetics Club. This group builds a sense of unity among students and faculty, providing a strong, supportive community of mentors and peers.
Faculty mentors
Build one-on-one relationships with professors who partner with and encourage you to pursue your professional goals and calling.
Job and grad school placement
Many alumni immediately enter careers in medicine, research, or health-related fields. Others go on to earn graduate degrees at universities and medical schools across the country.
The experiences and education that I received in the Biokinetics program at Bethel have been invaluable to me as a current full-time graduate student. I chose the Biokinetics program in order to be as fully prepared as possible. I wouldn't trade my undergraduate experience for anything.
Krista Nauman '12
Grad school: Bethel University Physician Assistant Program
What can I do with a biokinetics major?
Biokinetics majors prepare to promote health and wellness in a variety of settings, and are well equipped for graduate study in health-related fields.
Careers
Careers of biokinetics graduates:
Preventive medicine
Exercise physiologist
Health specialists
Human performance specialists
Research technician
Physical therapy aid
Wellness professional
Personal care attendant
Exercise therapist
Graduate Schools
Our alumni attend:
Mayo School of Health Sciences
University of Minnesota
University of Iowa
University of Illinois-Chicago
University of Colorado-Denver
Southwest Baptist University
Regis University
Stony Brook University
Pacific University
University of Miami
University of Florida
St. Catherine University
College of St. Scholastica
Graduate Fields
Graduate fields our alumni go into:
Physical Therapy
Physician Assistant
Chiropractic
Medical
Exercise Physiology
Occupational Therapy
Public Health
Biomedical