As an English major with a literary studies emphasis, you'll study classic and contemporary literature while building practical writing skills in areas that interest you.
Why should I study literary studies?
You'll explore stories through the disciplines of reading and writing while cultivating skills of analysis and connection useful in any career. You'll develop:
intellectual capacity for critical thought
emotional capacity for sympathetic understanding
aesthetic capacity for appreciating beauty
moral capacity for ethical action
creative capacity for effective communication
What can I do with this degree?
When you earn a B.A. in English with an emphasis in literary studies, you'll be prepared to attend graduate school or work in publishing, journalism, education, marketing, and more. Our alumni have built careers as:
Editors
Journalists
Marketers
Teachers
Web developers
Attorneys
Project managers
Human resource professionals
What skills will I develop?
Literary analysis and research
Communication
Creative thinking
Writing
Editing
Presenting
Revision, literary critique, and publishing
Literary craft techniques
Contexts, critical approaches, and methods for interpretation
You'll also have the opportunity to participate in the R.E.A.L. Experience—a program specifically designed to help you gain the relevant, hands-on experience employers desire—so that when you graduate, you'll be as impressive in practice as you are on paper.
What unique experiences or opportunities will I have?
Learn cross-culturally
Study other cultures in the classroom or experience them by studying abroad. Options include:
World Literature (Japanese or Central and South American)
Travel Writing
The J-Term

 

Textura

 

trip, which gives you the opportunity to practice photojournalism and create a

 

culturally insightful magazine
Learn from accomplished faculty writers
April Vinding in Ruminate; her most recent book, Triptych
Marion Larson in The Journal of College and Character; her most recent book, From Bubble to Bridge: Educating Christians for a multifaith world. 
Scott Winter's most recent book, Nebrasketball: Coach Tim Miles and a Big Ten Team on the Rise, won a 2016 Nebraska Book Award
Mark Bruce, in his recent anthology,

 

The Anglo-Scottish Borders and the Shaping of Identity: 1300-1600, worked with distinguished scholars from diverse institutions like the University of California, Berkeley; Cornell University; Auburn University; the University of Oxford; and the University of Nottingham.
Overall, in the last four years, English department professors have published 4 books, 4 book chapters, 34 creative pieces, 20 scholarly pieces, and given 71 professional presentations. As a result of these professional successes, our professors are well-connected with the writing and publishing communities both locally and nationwide—such as Angela Shannon, who serves on the board at the Loft Literary Center in Minneapolis. These connections help to provide students with top internship opportunities where skills can be developed further.
In a recent survey of 200 department alumni, 85 respondents have an M.A. or are currently pursuing one; 15 have a Ph.D. or are currently pursuing one; and 6 have completed law school.
99
students majoring in the department
Recent News
May 13, 2022 | 12:30 p.m.
February 18, 2022 | 11:30 a.m.
February 07, 2022 | 11 a.m.
Upcoming Events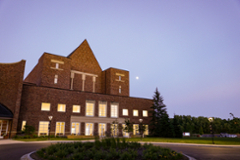 See yourself at Bethel—join us for one of our in-person or virtual events!

More Events
For me, journalism meant becoming a reporter, but God brought me into ministry. I quickly learned that good writing transcends vocation. Creative storytelling is key anywhere. Studying journalism helped me find my voice and bring good writing to any calling.
Monique Kleinhuizen '08 GS'16
Current job: Communications Strategist at Bethel University
We had numerous opportunities to practice journalism in classroom and professional settings, and we didn't just learn it as a craft. We studied the role of journalism as an institution, which I find very beneficial in today's media environment.
Jared Nelson '16
Current job: Communications Manager, PrepHoops.com
Literature changed who I was, allowed me to look at the world in a new way, to become a more curious person. Faith-learning integration at Bethel helped prepare me to link my faith with my work.
Amy Williams '07
Current job: Major Gifts Officer at Ecumen