Literature Minor
The literature minor will prepare you to make meaningful connections between the seen and unseen through the study of metaphor and figurative language. You'll have the freedom and flexibility to pursue your passion for reading and writing while continuing your studies in other areas.
Why should I study literature?
Several global crises of the 21st century have been attributed to "colossal failures of imagination." At Bethel, we teach literature with a keen sense of its relevance for our world, emphasizing literary study as a discipline of the imagination that develops:
intellectual capacity for critical thought
emotional capacity for sympathetic understanding
aesthetic capacity for appreciating beauty
moral capacity for ethical action
creative capacity for effective communication
What can I do with this degree?
By exploring the written word through a critical, inquisitive, and passionate lens, you'll gain deep thinking skills that strengthen your qualifications and make you stand out from competitors. The literature minor pairs well with majors in:
Psychology
Digital humanities
Biblical and theological studies
Business
Biology
Chemistry
Physics
Students also have flexibility to explore literature from Spanish and Latin American cultures. 
What skills will I develop?
Research and literary analysis
Clear and effective communication
Effective presentation skills
How to learn quickly
Literary study, such as contexts, critical approaches, and methods for interpretation
A broad understanding of the history and representative works of British and American literary traditions and those of other cultures
You'll also have the opportunity to participate in the R.E.A.L. Experience—a program specifically designed to help you gain the relevant, hands-on experience employers desire—so that when you graduate, you'll be as impressive in practice as you are on paper.
What unique experiences or opportunities will I have?
Delve into unique literary topics
Some of our bold, innovative courses contribute to the cosmopolitan distinction of Bethel's literature program:
Modern Mythmakers
Medieval Identities and the Origins of Modern Racism
Truth-Telling: The Stories of Resistance
Literatures of Faith: Christianity & Islam
Travel Writing taught on location in various countries
Monsters and the Monstrous
Gain hands-on experience
Our department offers many on-campus opportunities for you to hone your creative craft. These include:
The Coeval, a student-run journal published once a semester. Students can submit their fiction, non-fiction, poetry, and artwork for publication in the journal, or apply to work as a journal editor
The Clarion, Bethel's student newspaper
Textura, a student-written magazine produced using materials from an international J-Term trip
The Jerry Healy Poetry Prize, awarded for our annual poetry contest
In a recent survey of 200 department alumni, 85 respondents have an M.A. or are currently pursuing one; 15 have a Ph.D. or are currently pursuing one; and 6 have completed law school.
#1
National award for "Textura" student magazine
- Associated Collegiate Press
Recent News
May 13, 2022 | 12:30 p.m.
February 18, 2022 | 11:30 a.m.
February 07, 2022 | 11 a.m.
Upcoming Events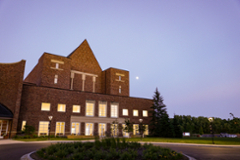 See yourself at Bethel—join us for one of our in-person or virtual events!

More Events
Literature changed who I was, allowed me to look at the world in a new way, to become a more curious person. Faith-learning integration at Bethel helped prepare me to link my faith with my work.
Amy Williams '07
Current job: Major Gifts Officer at Ecumen
We had numerous opportunities to practice journalism in classroom and professional settings, and we didn't just learn it as a craft. We studied the role of journalism as an institution, which I find very beneficial in today's media environment.
Jared Nelson '16
Current job: Communications Manager, PrepHoops.com
For me, journalism meant becoming a reporter, but God brought me into ministry. I quickly learned that good writing transcends vocation. Creative storytelling is key anywhere. Studying journalism helped me find my voice and bring good writing to any calling.
Monique Kleinhuizen '08 GS'16
Current job: Communications Strategist at Bethel University