Political science is the study of governments, public policies and political processes, systems, and political behavior. We cover the field with a keen eye toward integrating the best that political science has to offer with the demands of the Christian faith.
Why should I study political science?
Political science is an ideal liberal arts major that can help Christian students to equip themselves as readers, writers, and thinkers who want to make a tangible impact on the everyday lives of their fellow citizens. If you're interested in American politics, international relations, public policy, or big questions about the purpose of government, political science may be a good field for you.
What can I do with this degree?
Students who study political science often go on to careers in:
Federal, state and local governments
Law
Business
International and nonprofit work
Campaign management and polling
Journalism
Precollegiate education
Electoral politics
Research and university teaching
As liberal arts graduates, our students are equipped to pursue careers in virtually any field to which they feel called. Our graduates routinely go on to the ministry, mission field, and other fields of Christian service. After leaving Bethel, many of our students pursue graduate or professional education, particularly the study of law. Our majors have been admitted to all of the Minnesota law schools as well as nationally top-ranked schools, including Harvard, George Washington, the University of Virginia, Vanderbilt, and many more.
What skills will I develop?
Through study of political science, students develop a set of analytical capabilities, administrative competence, and communication skills that are valued in many careers. Our students read difficult material, discuss complex ideas, and complete writing assignments that equip them with the abilities that employers expect from well-educated people. Our majors' sharp critical thinking skills have made them attractive employees in the private and public sectors, and these skills have served them well when they pursue graduate or professional education.
What unique experiences or opportunities will I have?
Students who major in political science often choose to spend a semester in Washington, D.C. with the American Studies Program, a program of the Christian Council on Colleges and Universities that gives students the chance to live 8 blocks east of the Capitol and complete an internship in Washington, D.C., while continuing their classroom study of political science with CCCU faculty.
Many of our students also complete internships in St. Paul with the Minnesota State Senate, gaining real-world experience in the operation of state government. After these experiences, our students are often offered jobs in Washington, D.C. or St. Paul, giving them the chance to continue to serve God's people through public service.
Political Science majors who demonstrate academic excellence are invited to apply for membership in Pi Sigma Alpha, the national Political Science Honorary Society.
20%
department students double major
83
students in political science majors
Recent News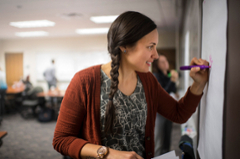 We believe everyone has a story to tell. Envision how Bethel could become part of yours.

Latest News and Stories
Studying Political Science at Bethel greatly influenced my direction and experience now in ministry with the homeless and addicted populations in the Twin Cities. I have gained a more keen eye for the ways power can be used and abused!
David Morrow '04
Current job: Director of Chaplains at Union Gospel Mission
I learned many invaluable lessons at Bethel but what stands out was the accessibility of the faculty and their genuine desire to see students succeed. I was never a number in a classroom. Many of those professors remain mentors today.
Allie Ryan '11
Current job: Legislative Correspondent for U.S. Senator Chuck Grassley
My faith grew immensely during my time at Bethel, in part from being surrounded by so many wonderful friends and mentors who encouraged me to dig deeper. I have been challenged to ask more difficult questions while reconciling my faith with a world filled with so much injustice. Entering into dialogue with others about the messiness in life has really led me to grow closer to God.
Katie Cudo '19