Spanish education majors build foundational skills by studying language, culture, history, and literature. They develop meaningful, lasting relationships with people from other cultures during experiences in Spain, the local Latinx community, or elsewhere, and their coursework leads to licensure to teach Spanish in Minnesota public schools.
Why should I study Spanish education?
Teaching allows you to shape the lives of elementary, middle school, or high school Spanish students. It is rewarding to see your students' eyes opened to the diverse world in which we live. Because Spanish is the most popular foreign language in the U.S., Spanish teachers are in high demand. 
What can I do with this degree?
With a Spanish education K–12 degree, you will be able to:
Teach Spanish to learners in kindergarten, elementary school, middle school, and high school.
Combine your education training with other fields of teaching or service.
Go to graduate school in education or Spanish.
Teach in an immersion school by double-majoring in elementary education. Our faculty work to make sure students can achieve a double major within four years.
What skills will I develop?
A major in Spanish education K–12 will prepare you to:
Become a Minnesota licensed Spanish teacher
Work with people of all ages
Communicate in English and Spanish
Engage respectfully with people from other cultures
Talk about a wide variety of topics in Spanish
An understanding of how people acquire languages
Develop leadership and organizational skills
Foster collaborative learning
Cultivate resourcefulness and creativity
Use critical theory to unpack issues of power, race, gender, and social class
Adapt to unfamiliar places and situations
Establish lasting relationships in Spanish-speaking cultures
Understand your own culture and other cultures
What unique experiences or opportunities will I have?
Study abroad
All Spanish education majors complete one semester of study abroad in a Spanish-speaking country. Our department offers a popular program in Spain, where groups of students immerse themselves in language and culture. This program offers internships that allow students to develop professional and ministry skills in schools. Additional semester opportunities are available through the Office of Off-Campus Programs/International Studies. 
Engage locally
We provide opportunities to engage with the vibrant Latino communities in Minneapolis and St. Paul. Students may attend Spanish-speaking churches, sit in on classes at schools, participate in community outreach, tutor English learners, attend and volunteer at professional conferences, and partner with other local organizations to use their Spanish in real-world contexts—such as Urban Ventures, CLUES, and One Reason in the Twin Cities.
Find community
When you're part of a small but dynamic academic department, you find a second home. Our students develop close relationships with faculty and each other through informal gatherings, tutoring services, and teaching assistantships. 
69%
recent alumni hold leadership roles in their work, church, or community
12:1
student-to-faculty ratio
Recent News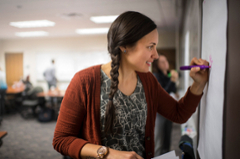 We believe everyone has a story to tell. Envision how Bethel could become part of yours.

Latest News and Stories
Upcoming Events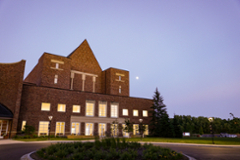 See yourself at Bethel—join us for one of our in-person or virtual events!

More Events