Students majoring in TEFL take courses in linguistics, education, and a variety of courses focusing on other cultures that prepare them to live and teach in a foreign country. TEFL majors complete an internship abroad and often double major in Spanish, Spanish education, or reconciliation studies.
Why should I study TEFL?
English is an important tool in a global economy and interconnected world. With a TEFL degree, you'll equip others to advance their careers and develop the skills needed to interact with people from English-speaking cultures. It will also help you understand the socio-historical context of the countries where you might live and work.
What can I do with this degree?
With this degree, you'll be fully prepared to successfully live and teach English abroad in a foreign country. You can also choose to combine a profession in another field with skills for teaching English in a foreign country. 
What skills will I develop?
With a TEFL degree, you'll be prepared to:
Understand second language acquisition and teaching English in cross-cultural contexts
Lead students and peers
Teach group activities
Work with learners of all ages
Practice cultural awareness
Communicate across language barriers
Think on your feet
Cultivate resourcefulness and creativity
Look at your own language and culture from someone else's perspective
Live and teach in a foreign country
What unique experiences or opportunities will I have?
Study Abroad
In this major, students gain experience teaching English abroad. This life-changing experience will put your classroom knowledge to a practical test. This can be done in any country with a Bethel-affiliated program or another program.
Interdisciplinary and Experiential Learning
You'll have the opportunity to take classes in a variety of disciplines to better understand and support English learners. Your language teaching skills will be used to help English learners thrive in the Twin Cities and organizations abroad, where you'll develop an understanding of the community support systems serving diverse populations. Some of our campus partners include Open Door in Minneapolis, The Seed Initiative in Vietnam, and the University of Nigata in Japan. 
93%
first-year students who said they would probably or definitely go to Bethel if they had to start over again
Up to $3,000 – Annual earnings among student employees
Recent News
We believe everyone has a story to tell. Envision how Bethel could become part of yours.

Latest News and Stories
Upcoming Events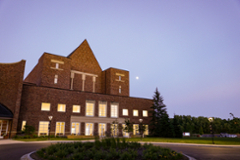 See yourself at Bethel—join us for one of our in-person or virtual events!

More Events