With the Certificate in Classroom Management, you'll become skilled in using a range of skills to maintain a positive, safe learning environment for every student.
At a Glance
Delivery
Online
Finish in as few as
5 months
Estimated tuition
$5,350
Contact Us
Request Information
Interested in learning more about Bethel's Certificate in Classroom in Management program? Fill out this simple form and we'll send you more information soon. 
Hey! Looks like the form didn't load. If it doesn't load after a second or two, please refresh the page and you should see it. If that doesn't work, please
let us know.
Meet Your Counselor
Jacob Thompson
At Bethel, we're committed to helping you get the most out of your education. Your enrollment counselor is here to help you balance your program with your personal life and career goals.
Designed for all K-12 teachers
---
New and experienced teachers will appreciate practical strategies that can be immediately implemented in their classrooms.
Flexibility
---
Our programs are completed fully online and are designed for students who work full time, have families, and are involved in their communities.
Recent News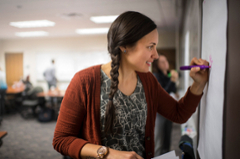 We believe everyone has a story to tell. Envision how Bethel could become part of yours.

Latest News and Stories
#8
of 60 Best Christian Colleges & Universities for 2019-2020
- https://www.edsmart.org/best-christian-colleges/
$65,000 - Median income range of recent Bethel Graduate School alumni
- 2015 Bethel Graduate School Alumni Survey
Career Outcomes
Outcomes
Teachers who complete the Certificate in Classroom Management program will understand key methods of verbal and nonverbal communication that create thriving classrooms.
Skills
Learn how to...
Recognize and respond to common patterns of behavior in the classroom
Demonstrate key nonverbal classroom management strategies
Identify your own tendencies and how they affect relationships with students
More effectively include all students in the classroom community
Form the class into a united group


Start your journey
Apply Now
You're called to accomplish incredible things. Take the next step in your career and fill out our simple, straightforward application today.