Professional Writing Minor
The professional writing minor is perfect for students who want to increase their marketability by improving their written communication skills. You'll begin with introductory courses in professional and technical writing before diving deeper your desired area of speciality—whether that's journalism, medical writing, grant writing, advertising, or more.
Why should I study professional writing?
With a minor in professional writing, you'll be prepared to communicate effectively in your primary field. Through courses like Prose Studio, Introduction to Logic, and Professional and Technical Communication, you'll learn how to write and edit copy that resonates with specific audiences—whether you're working on a scientific grant, advertising campaign, or business proposal.
What can I do with this degree?
A professional writing minor will set you apart from other job candidates and signal to employers that you know how to communicate well. This minor pairs well with majors in:
Business
Engineering
Computer science
Pre-law
Organizational communication
Communication studies
Biology
Chemistry
Physics
What skills will I develop?
Understand the various forms, modes, and styles of writing used in the contemporary workplace
Analyze how writing affects user experience
Explore your role and responsibilties as a truth-seeker
Develop expertise in blog, personal essay, technical, and op-ed writing
You'll also have the opportunity to participate in the R.E.A.L. Experience—a program specifically designed to help you gain the relevant, hands-on experience employers desire—so that when you graduate, you'll be as impressive in practice as you are on paper.
What unique experiences or opportunities will I have?
Take your writing out of the classroom
Enroll in Travel Writing, which is taught on location in various countries
Create Textura, a photojournalistic magazine, on a J-Term study abroad trip
Share your writing both on and off campus
Write for, edit, and publish in peer-reviewed or on-campus publications such as the Coeval, the student literary magazine, and The Clarion, Bethel's student newspaper
Pursue opportunities to be published on literary websites and journals
Meet with visiting writers to get comments on your work in progress
See your learning in action
Implement and showcase your skills with a long-format professional writing project, scholarly writing project, or internship
34
creative pieces published by faculty since 2013
99
students majoring in the department
Recent News
May 13, 2022 | 12:30 p.m.
February 18, 2022 | 11:30 a.m.
February 07, 2022 | 11 a.m.
Upcoming Events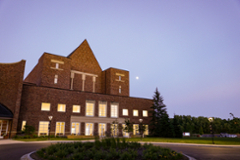 See yourself at Bethel—join us for one of our in-person or virtual events!

More Events
Literature changed who I was, allowed me to look at the world in a new way, to become a more curious person. Faith-learning integration at Bethel helped prepare me to link my faith with my work.
Amy Williams '07
Current job: Major Gifts Officer at Ecumen
We had numerous opportunities to practice journalism in classroom and professional settings, and we didn't just learn it as a craft. We studied the role of journalism as an institution, which I find very beneficial in today's media environment.
Jared Nelson '16
Current job: Communications Manager, PrepHoops.com
For me, journalism meant becoming a reporter, but God brought me into ministry. I quickly learned that good writing transcends vocation. Creative storytelling is key anywhere. Studying journalism helped me find my voice and bring good writing to any calling.
Monique Kleinhuizen '08 GS'16
Current job: Communications Strategist at Bethel University