Bethel's human bioenergetics emphasis is designed for students who plan to pursue careers in healthcare. You'll complete the prerequisites needed for graduate and medical schools.
Why should I study human bioenergetics?
You'll prepare to serve and lead as they promote health and well-being in all aspects of life. The core curriculum includes courses from the natural sciences (biology, chemistry, physics, and psychology) and upper-level applied courses within the program to focus on the human system. It's about cutting-edge, award-winning research, collaboration with distinguished professors, integrated academics to prepare you for a wide range of careers and graduate programs, and hands-on experience in our extensive lab spaces—all within a Christian learning environment.
What can I do with this degree?
Your academic experience will include courses in a variety of disciplines, preparing you for a wide range of careers. Many alumni immediately enter careers in medicine, research, or other health-related fields. Others go on to earn graduate degrees at universities and medical schools across the country.
Our alumni have entered graduate-level programs in:
Physical therapy
Occupational therapy
Physician assistant
Medical school
Chiropractics
Public health
Biomedical
Exercise physiology
Our alumni complete these programs at schools such as:
Mayo School of Health Sciences
University of Minnesota
University of Iowa
University of Illinois-Chicago
University of Colorado-Denver
Southwest Baptist University
Regis University
Stony Brook University
Pacific University
University of Miami
University of Florida
St. Catherine University
College of St. Scholastica
and more
What skills will I develop?
Research skills
Team development
Time management skills
Listening to patients to hear beyond what they describe
Community-based learning
Collaboration
Clinical work
In-depth study of human anatomy, physiology, and biomechanics
You'll also have the opportunity to participate in the R.E.A.L. Experience—a program specifically designed to help you gain the relevant, hands-on experience employers desire—so that when you graduate, you'll be as impressive in practice as you are on paper.
What unique experiences or opportunities will I have?
Original Research
You'll collaborate with professors on original research projects over an extended portion of the program that will prepare you for your career or graduate school. All students present, and some earn awards, at the Northland Chapter of the American College of Sports Medicine (NACSM) annual conference.
State-of-the-Art Labs
We're housed in the top floor of Bethel's brand new Wellness Center building, where multiple lab spaces offer the latest in physiological and biomechanical assessment equipment. You'll gain experience outside the typical classroom setting through simulations and research in the student-run assessment laboratory where you'll study your peers, faculty, and staff to Bethel.
Strategic Partnerships
We continue to grow our network of strategic partnerships with industry leaders in health and medicine. From UnitedHealth Group to Mayo Clinic, we are committed to providing students opportunities and connections to build your experience, network, and knowledge in the field.
Biokinetics Club
Students are encouraged to join the Bethel University Biokinetics Club. This group builds a sense of unity among students and faculty, providing a strong, supportive community of mentors and peers.
Study Abroad in Belize
Our department offers a specific study abroad experience to Belize, Central America during interim, Integrative Medicine in a Cross-Cultural Setting, where we discuss and engage in multiple cultural practices to develop a better understanding of holistic health and well-being.
97%
recent graduates are employed or in graduate school
91%
of seniors rank their Bethel education good or excellent
Upcoming Events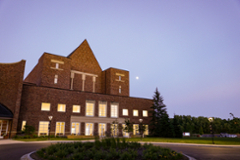 See yourself at Bethel—join us for one of our in-person or virtual events!

More Events
The experiences and education that I received in the Biokinetics program at Bethel have been invaluable to me as a current full-time graduate student. I chose the Biokinetics program in order to be as fully prepared as possible. I wouldn't trade my undergraduate experience for anything.
Krista Nauman '12
Grad school: Bethel University Physician Assistant Program