With a human services degree, you'll discover how to use your compassion to improve lives.
At a Glance
Delivery
Online
Finish in as few as
21-24 months
Estimated cost per credit
$430
Get college credits
---
At Bethel, your professional, life, military, and past educational experience could count as credits toward your degree. Save time and money. Find out more about how you could qualify for and earn college credits.
Contact Us
Request Information
Interested in learning more about Bethel's Human Services program? Fill out this simple form and we'll send you more information soon.
Hey! Looks like the form didn't load. If it doesn't load after a second or two, please refresh the page and you should see it. If that doesn't work, please
let us know.
Meet Your Counselor
Kayleigh Sommerfeldt
At Bethel, we're committed to helping you get the most out of your education. Your enrollment counselor is here to help you balance your program with your personal life and career goals.
Free course resources
---
Instead of buying textbooks, you'll save time and money with access to free digital resources.
Employment preparation
---
Prepare for entry-level positions in social services, mental health, public or private agencies, and congregational settings serving children, adolescents, adults, couples, or families.
Cross-cultural awareness
---
Understand how cultural factors affect your clients and how you can communicate most effectively with persons from all walks of life.
Interpersonal relationship skills
---
Since you'll encounter all types of relational conflicts in this field, learn how to effect positive change for each unique relational dynamic.
Recent News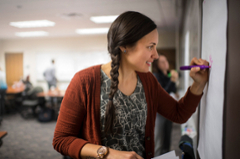 We believe everyone has a story to tell. Envision how Bethel could become part of yours.

Latest News and Stories
Upcoming Events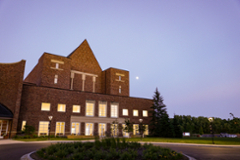 See yourself at Bethel—join us for one of our in-person or virtual events!

More Events
Learn to offer hope through holistic care.
We believe in the power of holistic care rooted in a deep appreciation for human dignity. You will know how to address the needs of an increasingly diverse world as you work entry-level positions in mental health and social service agencies, correctional and probation facilities, and faith-based organizations. Our courses will equip you to offer hope from a place of humility, empathy, and grace.
Top 10
online B.A. in Human Services program nationwide
- Study.com
95%
of 5-year alumni are involved in leadership roles
- Bethel CAPS Alumni Survey
I felt unqualified for what God was calling me to. Bethel encouraged me to become qualified.
Melissa Nikovics '15
Grad School: Bethel University M.A. in Counseling Psychology
Bethel faculty prepared me for thoughtful and loving service to a diverse world that Jesus loves. Bethel faculty provided not just helpful information but also an unforgettable example. I highly recommend the Jesus-looking, well-rounded education received through Bethel University.
Lloyd Latty '14
Grad School: University of Minnesota Foundation
Career Outcomes
Wondering what you can do with a human services degree?
A B.A. in Human Services prepares you for a variety of careers in the helping professions, from corrections to career services. Our graduates have also continued on to master's programs at Bethel and other schools.
Skills
Learn how to:
Apply research and theories to family relationships and processes
Use research and ethical principles in helping individuals
Demonstrate effective communication and conflict management skills
Analyze social and public policies designed to benefit others
Work effectively with people from diverse backgrounds
Integrate faith with your professional development and practice
Careers
Our graduates serve in:
Mental health
Family services
Law
Sociology
Addiction counseling
Healthcare
Corrections
Social services
Disability services
Career services
Congregational settings
Crisis intervention
Family life and health education
Youth services
Graduate Fields
Our graduates have gone on to study:
Gerontology
Social work
Human services
Sociology
Start your journey
Apply Now
You're called to accomplish incredible things. Take the next step in your career and fill out our simple, straightforward application today.