With an organizational leadership degree, you'll unlock your potential to effectively lead and follow others.
At a Glance
Delivery
Online
Finish in as few as
18-22 months
Estimated tuition
$20,640
Get college credits
---
At Bethel, your professional, life, military, and past educational experience could count as credits toward your degree. Save time and money. Find out more about how you could qualify for and earn college credits.
Contact Us
Request Information
Interested in learning more about Bethel's B.A. in Organizational Leadership program? Fill out this simple form and we'll send you more information soon.
Hey! Looks like the form didn't load. If it doesn't load after a second or two, please refresh the page and you should see it. If that doesn't work, please
let us know.

Meet Your Counselor
Taylor Williams
At Bethel, we're committed to helping you get the most out of your education. Your enrollment counselor is here to help you balance your program with your personal life and career goals.
Ethics-based approach
---
Grow as an ethical leader in courses that integrate faith into real-world situations. And professors model practical ways that values and beliefs influence business practices and leadership.
Community and connection
---
Foster meaningful friendships, lifelong connections, and a valuable network.
Leadership growth
---
Gain the skills to lead employees in applying your organization's mission, vision, and strategies so you achieve greater effectiveness and market impact.
Skill development
---
Learn to communicate and use technology in ways that enhance your leadership and followership, build successful teams, and develop processes that allow the completion of a goal work.
Student success
---
You'll be supported by advisors and professors who will make sure you have the tools you need—from admission to graduation and beyond.
Flexibility
---
Our program is completed fully online. Courses begin every six weeks, allowing you to start at any time throughout the year and finish in as few as 18 to 20 months. Our programs are designed for students who work full time, have families, and are involved in their communities.
Christian environment
---
In our courses, we integrate our Christian faith into ideas and case studies. And professors model character-driven leadership to help you explore the intersection of your values and your career.
Recent Organizational Leadership News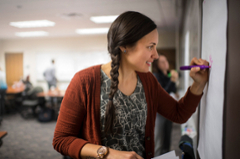 We believe everyone has a story to tell. Envision how Bethel could become part of yours.

Latest News and Stories
Upcoming Organizational Leadership Events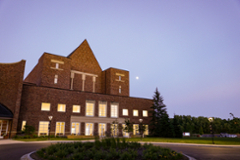 See yourself at Bethel—join us for one of our in-person or virtual events!

More Events
Lead with character and confidence,
At Bethel, our organizational leadership degree features highly-regarded graduates, distinguished faculty, relevant instruction, a convenient schedule, valuable networking, and community. Our beliefs are central to everything we do and helps us conduct business in a way that's true to our values. Though faith is not required of students, our professors use their Christian beliefs to model how to conduct business in a way that's true to our values. This will enable you to explore the intersection of your values and your career.
#2
top B.A. in Organizational Leadership program nationwide
- Study.com
Top 10
online organizational leadership program
- Intelligent
Professors always challenge us to think about how we're going to apply what we've learned. That's given me a lot of confidence to go out and use my knowledge and skills. I've realized I can affect change irrespective of my position in an organization. Since I started the program and using the principles at my job, I've been promoted twice.
Richard Senyah '13
I believe people will never forget what you made them feel, and the Organizational Leadership program will better help me make seniors feel loved.
Jeena Gurung '15
Current job: Como Park Falcon Heights Living-at-Home Block Nurse Program
I earned my degree at Bethel to further my career, but that changed when God gave us a daughter with autism. While I'm no longer pursuing my career, the writing skills I learned from my professors have been such a blessing. I communicate by email all the time with my daughter's doctors and caregivers, and it has meant all the world to me to be able to communicate clearly with them.
Amy Forsline
My leadership mission is to be the voice for those who don't have the strength to speak. Bethel guided me down a path to serve that mission in a way I never dreamt existed.
Julie Kline '15
The Organizational Leadership program provides students with life changing experiences. Students learn to work effectively and strategically within their cohort. The program not only provides students with superior education, it teaches students the value of integrity within Christian views.
Tee Lee '14
Current job: Industrial Sales
Career Outcomes
Organizational Leadership Degree Outcomes
Our B.A. in Organizational Leadership will help you gain the skills and knowledge you need to advance your career and become a world-class leader.
Skills
An organizational leadership degree will help you learn how to:
Build and lead innovative, successful, thriving teams
Lead employees in applying your organization's mission, vision, and strategies
Apply ethics to your work
Evaluate how global factors impact your decisions
Foster healthy leader-follower relationships to help develop the next generation of leaders
Think critically and make wise decisions
Start your journey
Apply Now
You're called to accomplish incredible things. Take the next step in your career and fill out our simple, straightforward application today.