Ask the hard questions. Then learn how to live the answers.
The Department of Philosophy trains graduates to think critically and creatively about life's most important questions. You'll explore historical and contemporary thought as you learn to reason and communicate clearly, integrating your Christian faith into every discussion.
Majors, Minors, and Programs
Recent News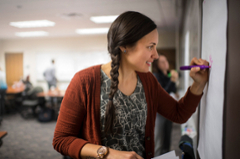 We believe everyone has a story to tell. Envision how Bethel could become part of yours.

Latest News and Stories
Upcoming Events
There are no upcoming events.
Integrating Philosophy and Christian Faith
The Department of Philosophy is a community of intellectually curious students and professors who love to discuss a wide range of ideas while staying rooted in their Christian faith. We ask the hard questions—about the nature of self, the meaning of life, the problem of evil and suffering, about contemporary moral issues—all from a Christian perspective.
5
full-time faculty members dedicated to their students' success
500
students taught by philosophy faculty each year
Program Highlights
Career and grad school preparation
Bethel's philosophy department trains you to think critically and analyze carefully, skills that transfer to almost any career. Our graduates go on to success in law, business, nonprofit work, or graduate school.
Interdisciplinary approach
Philosophy is a key part of liberal arts education at Bethel. Our professors teach a wide range of interdisciplinary courses. Many students choose to double major in philosophy for the critical thinking and communication skills it teaches.
Faculty mentors
Work closely with professors inside and outside of class. Our five full-time faculty come from a variety of backgrounds and philosophical fields.
Flexibility
Our major is small and flexible, giving you opportunities to study abroad, graduate early, or pair philosophy with a second major to broaden your career options.
Faith integration
We study the profound questions of philosophy by looking at answers from a variety of traditions and giving you the chance to come up with your own, all integrated with a distinctly Christian perspective.
Active philosophy community
Present papers at conferences, interact with special speakers, attend on-campus film screenings, and discuss ideas at departmental and club events.
The philosophy department at Bethel exposed me not only to challenging intellectual ideas, but also to new ways of thinking and learning. The experience helped to prepare me for the rigorous academic requirements of both law school and legal practice.
Eva Rodelius '10
Current job: Associate Attorney at Carson, Clelland & Schreder
I think some of what I found most meaningful and helpful about being a philosophy major was the ability to think through large scale issues and problems, but also the ability to delve deeply into the details to get a deeper understanding of the issues. The ability to look at things from so many perspectives has been great in a career that requires me to consider so many different stakeholders.
Brianna Menning '06
Current job: Associate Program Director, Sustainable Cities Initiative
Before coming to Bethel I was already driven to pursue certain ultimate questions about human existence. For instance, questions about the meaning of life, the nature of the human person, the nature and objectivity of ethics, the existence of God, the problem of evil and suffering, and so on. When I came to Bethel as a philosophy major I felt like I had found a home. I found a supportive and caring community of people, among both fellow students and the faculty, with whom I could engage in shared philosophical enquiry into questions that are of great significance for human life.
David McPherson, Ph.D. '05
Current job: Assistant Professor of Philosophy, Creighton University
What can I do with a philosophy degree?
Because philosophy develops critical thinking and communication skills—while shaping ethics and a broad understanding of humanity—philosophy is a great background for many career fields and excellent preparation for graduate school.
Careers
Career fields our graduates go into:
Business
Insurance
Publishing
Advertising
Computer programming
Consulting
Investment banking
Marketing
Technical writing
Government
Public administration
Diplomacy
Human services
Intelligence
Policy analysis
Journalism
Reporting
Editing
Freelance writing
Literary and film criticism
Law
Legal journalism
Criminal justice
Law practice
Legal aid
Legal research
Paralegal assistance
Medicine
Consulting
Hospital administration
Medical practice
Nursing
Arts and Humanities
Private and public administration
Theater production
Creative writing
Other areas
Education
Administration
Computer science
Library administration
Social services
Nonprofits
Graduate Schools
Our alumni attend:
Cambridge University
Yale University
Marquette University
Princeton Theological Seminary
Fordham University
University of Georgia
University of Wisconsin
Pepperdine University School of Law
University of St. Thomas School of Law
University of Minnesota Law School