Social Welfare Studies Minor
The minor in social welfare studies provides courses in social work and electives in social and behavioral sciences to provide an overview of the social services field.
What can I do with this degree?
This minor would be a great complement to those majoring in
psychology
,
sociocultural studies
, or
reconciliation studies
. It's also ideal if you're passionate about social justice and want to study in the fields of
politics or law
,
local or global ministry
, or
healthcare
.
What skills will I develop?
understanding of the complexities of policy-making and community impact
reconciliation and social justice strategies 
critical thinking through micro and macro lenses of communities
You'll also have the opportunity to participate in the R.E.A.L. Experience—a program specifically designed to help you gain the relevant, hands-on experience employers desire—so that when you graduate, you'll be as impressive in practice as you are on paper.
10th
in Social Work Degree Guide's "20 High-value BSW Degrees in Metro Areas with Top Salaries for Social Workers 2014"
100+
agency contacts in the Twin Cities
Upcoming Events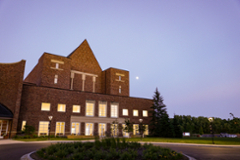 See yourself at Bethel—join us for one of our in-person or virtual events!

More Events
The Social Work program at Bethel helped me combine my passions for learning about society and culture at a global level, and for helping individuals by coming alongside them in purposeful ways. It is so meaningful to be a partner in people's stories and lives.
Katy (Stemler) Radloff '11
Current job: Program Supervisor, New American Services at Catholic Charities of St. Paul and Minneapolis
The faculty encouraged and challenged me to not settle for good enough. They fostered strong personal character alongside becoming a strong social worker. Their approach to persevere through challenges impacted my work ethic in all levels of social work.
Stephen Horn '10
Current job: Case Management Supervisor at Pinnacle Services
While abroad, God broke my heart for the injustices happening in the lives of women. The support and mentoring I received from the department taught me to speak and act strongly against injustice, offering healing hope to the hurting.
Emily Defenbaugh '13
Current job: Women's Advocate at 360 Communities, Lewis Home
My faith grew immensely during my time at Bethel, in part from being surrounded by so many wonderful friends and mentors who encouraged me to dig deeper. I have been challenged to ask more difficult questions while reconciling my faith with a world filled with so much injustice. Entering into dialogue with others about the messiness in life has really led me to grow closer to God.
Katie Cudo '19