Chemistry (B.S.)
The Bachelor of Science (B.S.) degree provides a strong background in chemistry that's attractive to employers and graduate schools. This degree merits distinction as an American Chemical Society approved program, incorporating courses in all the major areas of chemistry along with supporting courses in math, physics, and general education. At Bethel, courses in organic, analytical, physical, inorganic, and biochemistry are taught by professors who have doctoral degrees and ongoing research in each specific area.
Why should I study chemistry?
Chemistry is the central science, built on the fundamentals of mathematics and physics and applied in biology and biochemistry. Students learn how to think independently, solve problems, and gain a broad understanding of the principles that underlie the natural world.
Students have the opportunity for an education that is second-to-none, working alongside professors focused on teaching courses for and research with undergraduate students. This challenging degree is pursued within a supportive, Christian environment.
What can I do with this degree?
Recent Bethel graduates earning the B.S. degree have gone on to doctoral programs in:
Materials science and engineering
Analytical chemistry
Organic chemistry
Physical chemistry
Law
They attended graduate schools such as:
University of Minnesota-Twin Cities
University of Wisconsin-Madison
William Mitchell College of Law
Vanderbilt
Stanford
Purdue
University of Georgia
Virginia Tech
Pennsylvania State University
After earning their B.S. or their graduate degrees, recent graduates gain employment at companies including:
R&D Systems
Medtronic
3M
Pace Analytical
General Mills
Vision Ease
Boston Scientific
Ecolab
Alumni
Jonathan F. '03, Ph.D., Organic Chemistry, University of Wisconsin
Paul B. '03, Ph.D., Analytical Chemistry, University of Minnesota
Brent K. '04, Ph.D. Toxicology, University of Rochester
Timothy R. '04, M.S. Materials Science & Engineering, University of Minnesota
Kerri G. '07, Ph.D. Analytical Chemistry, Vanderbilt
Jamie S. '07, Ph.D. Molecular/Cell/Developmental Bio, Yale
Marcus K. '08, Ph.D. Biomedical Engineering, Purdue
Taylor M. '09, Ph.D. Theoretical Chemistry, Virginia Tech
Sarah P. '11, Ph.D. Chemistry, University of Minnesota (in progress)
Becky C. '11, Ph.D. Chemistry, University of Minnesota (in progress)
James C. '12, Ph.D. Biochemistry, University of Minnesota (in progress)
Kinsey B.'12, Ph.D. Chemistry, Purdue (in progress)
Alison R. '12, Ph.D. Polymers Chemistry, NDSU (in progress)
What skills will I develop?
Real-world research skills in a broad range of areas
Hands-on experience using research-grade instruments
Quantitative and analytical skills to understand data and solve problems
Experiment design and interpretation
Critical and creative thinking
Reading, writing, and presentation of scientific ideas and experimental results
You'll also have the opportunity to participate in the R.E.A.L. Experience—a program specifically designed to help you gain the relevant, hands-on experience employers desire—so that when you graduate, you'll be as impressive in practice as you are on paper.
What unique experiences or opportunities will I have?
All chemistry majors participate in both a junior and senior research project in collaboration with one of 
our 9 faculty
, including presenting their results at regional and national conferences. Many students participate in full-time paid summer research at Bethel or are accepted into research and internship positions across the country. Students will use state-of-the-art instrumentation (including a high-field NMR spectrometer) in their courses and research. The Chemistry Department also offers a History of Science study-abroad course in Europe every January.
97%
of recent chemistry grads are employed or in graduate/medical school
Top 15%
of chemistry programs nationally
- Major Field Test results
Recent News
November 28, 2022 | 9 a.m.
September 06, 2022 | Noon
Upcoming Events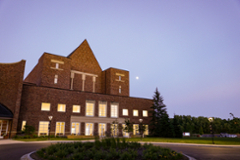 See yourself at Bethel—join us for one of our in-person or virtual events!

More Events
I'm not doing this because I want to save the world one heart valve at a time, but because I get to impact students who then impact others.
Angela Stoeckman '97
Associate Professor of Chemistry
I'm going to graduate from Bethel having done things that I would have never thought I could do, and research was a big one.
Maria Pecoraro '19
University of Minnesota Medical Center
Bethel chemistry students not only receive a world-class education, but also training that incorporates the beauty of God's creation in every aspect of learning.
Brent Kobielush, Ph.D. '04
Current job: U.S. Regulatory Affairs Manager at Cargill, Inc.