Community Health
Learn about community health, but don't stop there. Learn how wellbeing encompasses all of life.
The community health program will develop your ability to promote health and wellness through improving health literacy, attitudes, skills, and behaviors—allowing you to elevate the health status of individuals, families, communities, states, and nations.
Majors, Minors, and Programs
Upcoming Events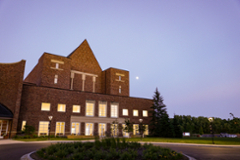 See yourself at Bethel—join us for one of our in-person or virtual events!

More Events
Going Beyond the Physical
The community health major and minor are taught from an interdisciplinary perspective,  preparing you to act as an informed and engaged community member and leader. Courses emphasize prevention and management of injury and disease, emotional health and overall wellbeing, health promotion, skill-building, epidemiology, nutrition education, critical thinking, and theories of health behavior. Completion of the community health major establishes eligibility to sit for the Certified Health Education Specialist (CHES) examination. 
2
Community health graduates achieved national recognition for their scholarship, leadership, and service
Top 3
human resources management program in Minnesota
- collegefactual.com
Program Highlights
Faith perspective
In addition to teaching critical thinking and best practices, professors also teach the integration of spiritual health as part of overall health and wellbeing.
Wellness Center
You'll have the opportunity to train in Bethel's Wellness Center, which includes expansive state-of-the-art fitness and academic space.
Study abroad
Take your training offsite and study in one of more than 30 locations worldwide.
Hands-on learning
Gain real-world experience while working alongside community health professionals during a semester-long internship.
I want to use my voice and be a resource for underrepresented communities that lack quality healthcare.
Lizzie Sanchez '22
Community Health Major
The road to my career in education and coaching was paved at Bethel. Bethel provided me with professional educators and coaches who had a passion for their work and a commitment to modeling their faith.
Peter Haugen '91
Current job: Head Football Coach, Gustavus Adolphus College (MN)
Professors showed me that following God's plan will look different for each of us...they helped me discover my talents and abilities, and equipped me with the skills necessary to succeed in all areas of my life.
Kailey Eid '16
Health and Physical Education Teacher at UBAH Medical Academy
What can I do with a degree in community health?
With a degree in community health, you are prepared for a career in county and state public health departments, private health agencies, hospitals, health clinics, non-profit agencies, and with community organizations. Graduates may also be able to pursue additional training/education in various allied health professions, including accelerated Bachelor of Science Nursing (BSN) programs. Completion of the community health major establishes eligibility to sit for the Certified Health Education Specialist (CHES) examination.
Careers
Our community health graduates work as:
Federal, state, county, or local government employees
Hospital or medical clinic staff
Senior healthcare facility staff
Leaders in community health agencies (American Red Cross, American Cancer Society, etc.)
Community health educators or specialists
School health coordinators
Teachers or directors of recreational activity programs (e.g., YMCA, camps, community recreation programs)
Graduate Fields
Our alumni study:
Public health (epidemiology, environmental health, etc.)
Nursing
Occupational therapy
Physician assistant
Physical therapy
Gerontology
Education
Nutrition
Graduate Schools
Graduate schools our alumni have attended:
Bethel University
St. Mary's University
University of Minnesota