Community Health Minor
A minor in community health helps students begin to understand both macro and micro perspectives of health within communities. Students from a variety of academic areas choose this minor.
Why should I study community health?
This minor is especially valuable to students majoring in social work, education, nursing, or biokinetics. You'll gain a deeper understanding of health and how to promote wellness in diverse settings and communities.
What can I do with this degree?
Our graduates have gone on to studies and careers in a variety of areas, including:
Community health educators or specialists
Education
Hospital or medical clinic staff
Nursing
Nutrition
Occupational therapy
Physician assistant
Physical therapy
Public health (epidemiology, environmental health, etc.)
Senior healthcare facility staff
Social Work
What skills will I develop?
Critical thinking
Effective collaboration and communication with others
Understanding personal and public health issues
Integration of Christian faith with the study of health
Addressing the whole person of your learners
You'll also have the opportunity to participate in the R.E.A.L. Experience—a program specifically designed to help you gain the relevant, hands-on experience employers desire—so that when you graduate, you'll be as impressive in practice as you are on paper.
What unique experiences or opportunities will I have?
We encourage you to combine your knowledge and skills in community health with your major of study in your experiences inside and outside the classroom.
2
Community health graduates achieved national recognition for their scholarship, leadership, and service
5th
lowest tuition out of the 17 schools in the Minnesota Private College Council
Upcoming Events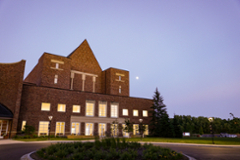 See yourself at Bethel—join us for one of our in-person or virtual events!

More Events
Professors showed me that following God's plan will look different for each of us...they helped me discover my talents and abilities, and equipped me with the skills necessary to succeed in all areas of my life.
Kailey Eid '16
Health and Physical Education Teacher at UBAH Medical Academy
I want to use my voice and be a resource for underrepresented communities that lack quality healthcare.
Lizzie Sanchez '22
Community Health Major
The road to my career in education and coaching was paved at Bethel. Bethel provided me with professional educators and coaches who had a passion for their work and a commitment to modeling their faith.
Peter Haugen '91
Current job: Head Football Coach, Gustavus Adolphus College (MN)