A math minor provides additional mathematical tools and a deeper understanding of math. It's a great addition to several majors, including physics, engineering, chemistry, biology, economics, and business.
What skills will I develop?
Problem solving
How to apply abstract concepts to concrete problems
How to break down complex problems into smaller steps
You'll also have the opportunity to participate in the R.E.A.L. Experience—a program specifically designed to help you gain the relevant, hands-on experience employers desire—so that when you graduate, you'll be as impressive in practice as you are on paper.
85
students in the department
$84K
annual median wage of recent computer science graduates
Recent News
September 20, 2021 | 2:30 p.m.
Upcoming Events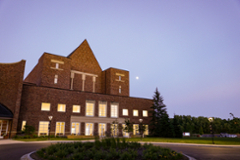 See yourself at Bethel—join us for one of our in-person or virtual events!

More Events
Bethel served as a launchpad for me to eventually discover my purpose in Jesus' kingdom, which includes my career as a budding entrepreneur founding Laminera, as well as how I've evolved in my faith and integrated the two.
Lauren Otto '12
Founder and CEO of Laminera
Mathematically-talented Christians need to think of mathematics as a path in which they may live out their faith. We can use our knowledge to further God's kingdom and live as lights in this world.
Megan Hawley '10
Current job: Data Scientist / Scientist III R&D, Honeywell Aerospace