Students with strong performance skills are prepared for graduate studies in music. They become professional musicians, college and university teachers, or private studio teachers.
Why should I study vocal applied performance?
The vocal emphasis provides you with technical knowledge and skills so that you're ready to perform professionally. You'll have the opportunity to work with other amazing musicians in your classmates and faculty through any of the many performance groups offered at Bethel.
What can I do with this degree?
Our alumni have gone on to perform professionally as worship directors, musical theatre actors, choir members, and more—all over the Twin Cities and across the world. 
What skills will I develop?
Advanced vocal performance skills in a variety of styles
Collaboration with others in vocal performance including opera scenes and musical theater productions
Rich knowledge of solo vocal repertoire, vocal diction in other languages, and vocal pedagogy
Preparation for graduate studies in vocal music
How to teach voice
Advanced musical theory
Rich knowledge of music history and literature
Conducting
Creative problem-solving
You'll also have the opportunity to participate in the R.E.A.L. Experience—a program specifically designed to help you gain the relevant, hands-on experience employers desire—so that when you graduate, you'll be as impressive in practice as you are on paper.
What unique experiences or opportunities will I have?
Collaboration with Faculty: Work one-on-one with your professors to hone technical skills and collaborate on research and performances.
Musical Tours: You'll perform with one of our highly-regarded musical groups, which travel around the Twin Cities, the country, and even around the world.
Performance Opportunities: Several home events like Festival of Christmas, Classics in the Great Hall, and Jazz in the Great Hall also mean you'll perform regularly in our Benson Great Hall, a premier venue in the Twin Cities metro.
300+
students involved in musical activities
100%
music education grads since 2011 are teaching
Recent News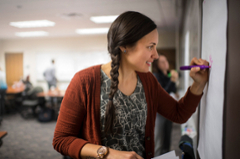 We believe everyone has a story to tell. Envision how Bethel could become part of yours.

Latest News and Stories
Upcoming Events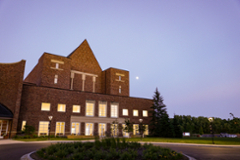 See yourself at Bethel—join us for one of our in-person or virtual events!

More Events
More Events
At Bethel, integrating faith and learning isn't just talk. The faculty are working musicians bringing a Christian perspective to their everyday work. My education prompted deep thought about music's role in Christian experience and clarified my calling to share music.
Nathan Cornelius '12
Grad school: Lilly Graduate Fellow pursuing Doctor of Musical Arts degree in guitar performance, concurrently with a Master of Music in music theory pedagogy, at the Peabody Institute of The Johns Hopkins University; Earned M.M. in composition and guitar performance from the Lamont School of Music, University of Denver.
I started at Bethel in my 50s, in pursuit of a lifelong dream. Now retired, I am involved with several Twin Cities community theatres, acting (including several lead roles), directing and playwriting. It's never too late to follow your dream!
Ginny Leutgeb '13
Actor
When I studied theatre at Bethel, I gained more than just a piece of paper. The program features talented professors who care wholeheartedly about their students' success and provide an exceptional experience on-stage and off.
Amy Shadis '06
Dance Instructor
The faculty takes a genuine interest in helping you develop as a student and as a person. The way I approach my students today is largely influenced by how the Bethel professors interacted with me on a daily basis.
Wes Myers '07
Current job: Orchestra, Guitar, Music Technology Teacher 4-12 and Assistant Marching Band Director at Marshall Public Schools, Marshall, MN
The classes were informative and practical. I often find myself using concepts I learned in acting classes to help with presentations even outside of theatre.
Erin Lorentz '13
Current job: Student Alumni Programming Coordinator
The theater department really taught me how and why to pursue the best version of myself. Not only did they educate me on the history, practice, and art of theatre, but how it impacts the world and my relationships today.
Josh Palmer '15
Videographer at ACR Homes
Bethel provided me with an invaluable foundation in critically thinking and communicating about music, faith, and culture. Most of my colleagues have never had the opportunity, as I did, to regularly perform in an excellent venue like Benson Great Hall.
Madeline Veenker '10
Current job: Choir and Bell Director at St. Paul church and runs private vocal studio; earned an M.M. in vocal performance from University of Tennessee, Knoxville.
I was constantly performing through departmental events such as: weekly "Music Hour Recitals," orchestra and band concerts, solo and chamber recitals, semi-annual solo competitions, and yearly ensemble tours. I fell in love with the intensity of practicing and performing.
Lindsay Flowers '07
Oboe/English Horn in the Civic Orchestra of Chicago and Evansville Philharmonic; Citizen Musician Fellow under the mentorship of Yo-Yo Ma; Doctoral Candidate in Oboe Performance at Jacobs School of Music, Indiana University.
Students have opportunities to meet industry professionals through faculty, performances, master classes, or auditions. By graduation, I had completed master classes with individuals from NYC, Minnesota Opera, and Orchestra Hall.
Ruthanne Heyward '11
Current job: Working as a performing artist and actor in NYC
Bethel's liberal arts curricula greatly prepared me for graduate work in musicology. Already accustomed to making interdisciplinary connections, I was able to think more creatively about my research and to synthesize what I had learned with more insight and clarity.
Eve Ruotsinoja '08
Grad school: Finished M.M. in musicology from the University of Houston, 2013
The performing arts world is very dark, overall. Bethel prepared me to defend my faith and be an excellent performer. Graduate school thrust me into a cutthroat, competitive environment. But my identity doesn't rest on my musical successes or failures.
Kathryn Voelker '06
Current job and grad school: Associate Director of Bands and Assistant Professor of Music Education and Piano at Liberty University and finishing D.A. in wind conducting from University of Northern Colorado
Everything I learned at Bethel prepared me for a life I could never have imagined, in music and ministry both.
Bruce Leafblad 61
Professor of Church Music and Worship at B.H. Carroll Theological Institute in Arlington, Texas