x Close
Physics & Engineering Program
In the engineering dual-degree program, students typically spend three years at Bethel taking foundational courses, and then transfer to another university to spend two years working in specialty engineering fields beyond what Bethel offers. Options include aeronautical, biomedical, bioproducts, chemical, civil, environmental, and materials. After about 5 years, sometimes less, students graduate with 2 degrees: a degree from the engineering school and a B.A. from Bethel. Since the average engineering major at any school takes 5 years to graduate, the "3-2" provides 2 degrees, plus all the advantages of small class sizes, in about the same amount of time. Some students also finish in less time depending on advanced placement credits.
Why should I study engineering?
In our experience, dual-degree grads have great success obtaining job offers. Employers really do appreciate students who have received the broader education that a B.A. degree provides. A big part of any engineer's success lies in his or her ability to communicate results to other engineers and the public. Liberal arts classes train you to communicate well both orally and in writing—skills that often receive minimal attention in a standard engineering program. In addition, Bethel's broad course load provides more intensive work in mathematics and the sciences than the typical engineering major receives. Overall, the dual degree has a positive, long-term impact on your potential as an engineer, both in the ability to adapt to a changing technical environment, and as a leader or manager of other engineers.
Some students decide to work a little bit harder and earn their Bethel B.A. with a major in physics along with their engineering degree. This combination is particularly strong in the job market and for those who want to do graduate work in engineering research.
What can I do with this degree?
You can complete your dual degree at most engineering schools. In recent years, students have gone to schools such as the University of Minnesota, University of Wisconsin, Iowa State, North Dakota State University, and the Colorado School of Mines. To date, virtually all Bethel students have done very well academically after transferring to the school of their choice.
What skills will I develop?
No matter what field of engineering a student chooses, more than half of the courses taken will be the same. All students take:
Physics
Math
Chemistry
Computer science
General education requirements
Because the curriculum for the first 3 years is essentially the same, many students spend this time learning about themselves and their interests before deciding on a particular area of engineering.
You'll also have the opportunity to participate in the R.E.A.L. Experience—a program specifically designed to help you gain the relevant, hands-on experience employers desire—so that when you graduate, you'll be as impressive in practice as you are on paper.
What unique experiences or opportunities will I have?
As a physics major, you'll have opportunities to collaborate with professors on real-world research projects in our state-of-the-art labs, publish papers in prestigious science journals, present your findings at local and national conferences, intern at a wide range of companies, government agencies, and universities, and work as a research assistant during the summer months.
Top 15
undergrad physics program nationally, by size
- American Institute of Physics
11,800
square feet of physics and engineering labs (doubled since 2016)
Recent News
April 11, 2023 | 10:30 a.m.
Upcoming Events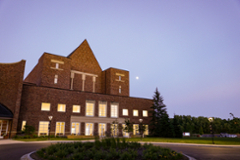 See yourself at Bethel—join us for one of our in-person or virtual events!

More Events
People get the idea that Christianity is anti-science, when that is not true at all. As a Christian physicist, my job is an opportunity to discover the amazing mind of God and how He so intricately orchestrated the universe to work-and also made it so that we could discover it for ourselves.
Laura King-Steen '08
Icing Cloud Calibration Engineer, HX5 Sierra at NASA's Glenn Research Center
Bethel served as a launchpad for me to eventually discover my purpose in Jesus' kingdom, which includes my career as a budding entrepreneur founding Laminera, as well as how I've evolved in my faith and integrated the two.
Lauren Otto '12
Founder and CEO of Laminera
Bethel's Physics alumni now make up a strong core of our measurement and automation team. Beyond their obvious technical abilities, they demonstrate the character of Christ in their endeavors, which above all is valued. I wish to express my gratitude for your teaching and referrals of such excellent people.
David Dikken
Current job: CEO, MTL Corporation
The strong foundation I was given by Bethel's physics department provided me with all the tools I needed to succeed in my graduate school career in electrical and biomedical engineering.
Daniel Klemme '13
University of Minnesota
Since 2007, I've had the privilege of advising six Bethel students in our Ph.D. program at the University of Minnesota. They are smart, hard-working, creative, and possess unusually broad and sophisticated skills in experimental physics and optics.
Sang-Hyun Oh
Professor and Sanford P. Bordeau Chair, University of Minnesota
The beauty of physics-based education is that it forces the student to learn how to think, to understand, and to solve problems. I don't believe a career exists in which the ability to solve problems effectively is not one of the most valuable assets a person can have. If this is true, then studying physics is one of the best ways to prepare for ANY career, technical or not.
Aaron Montello '06
Operations Manager, Prima Power Laserdyne