x Close
Physics & Engineering Program
The minor in physics is a condensed version of the bachelor of science major with requirements of the core curriculum. Courses include two semesters of a physics lab, electronics, modern physics, and an option of optics, mechanics, or thermodynamics.
What can I do with this degree?
The Physics minor would be a great complement to Science Education 5-12 majors in life science or chemistry, or students of other majors with particular interest in physics.
7
National Science Foundation fellowships earned by alumni
82
students accepted to graduate school in last decade
Recent News
September 09, 2022 | 9 a.m.
August 16, 2022 | 11 a.m.
Upcoming Events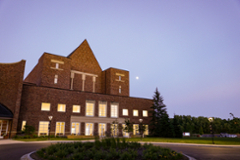 See yourself at Bethel—join us for one of our in-person or virtual events!

More Events
The strong foundation I was given by Bethel's physics department provided me with all the tools I needed to succeed in my graduate school career in electrical and biomedical engineering.
Daniel Klemme '13
University of Minnesota
People get the idea that Christianity is anti-science, when that is not true at all. As a Christian physicist, my job is an opportunity to discover the amazing mind of God and how He so intricately orchestrated the universe to work-and also made it so that we could discover it for ourselves.
Laura King-Steen '08
Icing Cloud Calibration Engineer, HX5 Sierra at NASA's Glenn Research Center
Since 2007, I've had the privilege of advising six Bethel students in our Ph.D. program at the University of Minnesota. They are smart, hard-working, creative, and possess unusually broad and sophisticated skills in experimental physics and optics.
Sang-Hyun Oh
Professor and Sanford P. Bordeau Chair, University of Minnesota
The beauty of physics-based education is that it forces the student to learn how to think, to understand, and to solve problems. I don't believe a career exists in which the ability to solve problems effectively is not one of the most valuable assets a person can have. If this is true, then studying physics is one of the best ways to prepare for ANY career, technical or not.
Aaron Montello '06
Operations Manager, Prima Power Laserdyne
Bethel served as a launchpad for me to eventually discover my purpose in Jesus' kingdom, which includes my career as a budding entrepreneur founding Laminera, as well as how I've evolved in my faith and integrated the two.
Lauren Otto '12
Founder and CEO of Laminera
Bethel's Physics alumni now make up a strong core of our measurement and automation team. Beyond their obvious technical abilities, they demonstrate the character of Christ in their endeavors, which above all is valued. I wish to express my gratitude for your teaching and referrals of such excellent people.
David Dikken
Current job: CEO, MTL Corporation