x Close
Physics & Engineering Program
One of only a handful of standalone Christian programs of its kind, Bethel's Bachelor of Science (B.S.) in Mechanical Engineering program builds on a strong foundation in physics while giving students exposure to high-level, specialized design opportunities. Students get the both of best worlds: a tight-knit learning atmosphere in a liberal arts setting plus advanced, hands-on learning and original research experiences. It is possible to complete the entire degree in as few as four years, efficiently setting students up for success in a variety of industries or graduate school.
Why should I study mechanical engineering?
The Bureau of Labor Statistics projects a 9% increase in the total number of mechanical engineering positions in the United States by 2026, with a median income of over $85,000 annually. Mechanical engineers are needed in a variety of industries, so students have the unique ability to tailor their career paths within a growing and hands-on field. But a big part of any engineer's success lies in his or her ability to communicate well with other types of engineers and professionals on their teams, as well as the public. Because this program is offered within Bethel's signature liberal arts learning environment, students learn to think broadly, solve problems creatively, and communicate effectively, setting them apart from other job applicants. By working closely with Bethel's other cutting-edge science, engineering, and technology programs, students become comfortable working with diverse teams to create real-world solutions. 
What can I do with this degree?
Mechanical engineering is one of the broadest types of engineering, with career paths centered on designing, developing, building, or testing mechanical and thermal devices for every setting imagineable. Every tool, engine, or machine has been developed by a mechanical engineer! Mechanical engineering graduates work on:
vehicles, including initial design and performance improvement
internal combustion engines
steam and gas turbines
refrigeration and air-conditioning systems (HVAC)
elevators and escalators
conveyor systems and automated transfer stations
electric generators
aerodynamics
robotics
sensors
biomedical applications from artificial joints to heart stents
What skills will I develop?
The physics-based approach we take at Bethel provides a scientific perspective on problem-solving in engineering and the additional lab skills that come with it. Furthermore, a solid physics foundation provides a platform on which graduates can draw even as technology continues to develop and evolve. The Bethel community experience will help you grow into a whole and holy person, and you'll also have access to specialized labs, doing significant research and/or design work alongside professors before you graduate. As a Bethel engineering graduate, you will have a unique mix of skills and experiences that will set you apart from graduates from other universities.
You'll also have the opportunity to participate in the R.E.A.L. Experience—a program specifically designed to help you gain the relevant, hands-on experience employers desire—so that when you graduate, you'll be as impressive in practice as you are on paper.
What unique experiences or opportunities will I have?
In the physics and engineering department, you'll have opportunities to collaborate with professors from multiple disciplines on real-world design and research projects; publish papers in prestigious journals; present your findings at local and national conferences; intern at a wide range of companies, government agencies, and universities; and work as a research assistant during the summer months.
Bethel alumni are also involved in undergraduate classes and regular visitors to campus, so you'll graduate with a built-in network of successful local engineers who model Christ-centered excellence in the field, inspire you, and help equip you for success.
82
students accepted to graduate school in last decade
15
specialized lab and design spaces in the department
Recent News
April 11, 2023 | 10:30 a.m.
Upcoming Events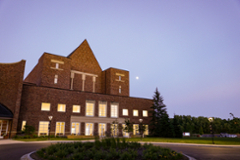 See yourself at Bethel—join us for one of our in-person or virtual events!

More Events
Bethel served as a launchpad for me to eventually discover my purpose in Jesus' kingdom, which includes my career as a budding entrepreneur founding Laminera, as well as how I've evolved in my faith and integrated the two.
Lauren Otto '12
Founder and CEO of Laminera
The strong foundation I was given by Bethel's physics department provided me with all the tools I needed to succeed in my graduate school career in electrical and biomedical engineering.
Daniel Klemme '13
University of Minnesota
Bethel's Physics alumni now make up a strong core of our measurement and automation team. Beyond their obvious technical abilities, they demonstrate the character of Christ in their endeavors, which above all is valued. I wish to express my gratitude for your teaching and referrals of such excellent people.
David Dikken
Current job: CEO, MTL Corporation
People get the idea that Christianity is anti-science, when that is not true at all. As a Christian physicist, my job is an opportunity to discover the amazing mind of God and how He so intricately orchestrated the universe to work-and also made it so that we could discover it for ourselves.
Laura King-Steen '08
Icing Cloud Calibration Engineer, HX5 Sierra at NASA's Glenn Research Center
The beauty of physics-based education is that it forces the student to learn how to think, to understand, and to solve problems. I don't believe a career exists in which the ability to solve problems effectively is not one of the most valuable assets a person can have. If this is true, then studying physics is one of the best ways to prepare for ANY career, technical or not.
Aaron Montello '06
Operations Manager, Prima Power Laserdyne
Since 2007, I've had the privilege of advising six Bethel students in our Ph.D. program at the University of Minnesota. They are smart, hard-working, creative, and possess unusually broad and sophisticated skills in experimental physics and optics.
Sang-Hyun Oh
Professor and Sanford P. Bordeau Chair, University of Minnesota