Digital Humanities Major
The B.A. in Digital Humanities fuses the traditional strengths of the humanities—the search for knowledge about human culture, and the cultivation of intellectual curiosity and empathy—with a greater understanding of digital-age skills. Students learn collaboratively how to use digital technologies to ask and answer meaningful questions in the study of English, history, literature, philosophy, theology, and other subjects, and to communicate persuasively and winsomely with their audiences. This small major is purposefully designed to pair with a second major.
Why should I study digital humanities?
Humanities graduates can greatly increase their job prospects and earnings by adding additional skillsets in IT networking and support, data analysis, social media, programming, marketing, and graphics. Digital humanities majors graduate with the ability to tell powerful stories in digital spaces, with a track record of top-level research using sophisticated tools, and with the confidence to translate these skills to a competitive job market.
What can I do with this degree?
The digital humanities help prepare students for careers in industry (e.g., marketing, design, technology, media) and the nonprofit sector that require digital skills along with the critical thinking that has long been valued in the humanities. A digital humanities major is also particularly useful for jobs in education, library and information science, and museum studies. There are also a growing number of digital humanities positions in higher education that specifically require digital humanities credentials.
Alumni can go on to graduate programs in computer science, digital humanities, English, history, journalism, library science, museum studies, philosophy, and theology.
What skills will I develop?
Digital humanities students learn a range of skills, from technical abilities like coding, graphic design, and the ability to analyze "big data," to traditional humanities skills like close reading, critical thinking, and persuasive communicating. Most importantly, digital humanities students acquire a skillset tailored to their own projects—each student's pathway is unique.
You'll also have the opportunity to participate in the R.E.A.L. Experience—a program specifically designed to help you gain the relevant, hands-on experience employers desire—so that when you graduate, you'll be as impressive in practice as you are on paper.
What unique experiences or opportunities will I have?
This is an interdisciplinary major that concludes with an internship in industry, with the goal of opening pathways for future employment. Students will also have the opportunity throughout the major to collaborate with peers and professors across the university in other disciplines.
80
students in the department
6
full-time faculty in the department
Recent News
September 21, 2021 | 11 a.m.
June 17, 2021 | 9:45 a.m.
March 31, 2021 | 9:30 a.m.
Upcoming Events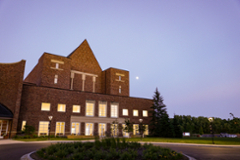 See yourself at Bethel—join us for one of our in-person or virtual events!

More Events
History majors are perhaps more prevalent in the corporate world than you think. The habits of research, writing and critical thinking built from a history degree are vital in any field. The ability to critically evaluate sources is particularly valuable.
Tim Goddard '04
Current job: Vice President of Marketing, Corum Group Ltd
Being able to focus on the big picture, while still knowing how the small details relate to that big picture, is a huge advantage in business, and something that studies in history can train one to do.
Brandon Raatikka '03
Current job: Vice President of Risk Assessment, FactRight, LLC