With an M.S. in Nurse-Midwifery, you'll be prepared to provide meaningful care with skill, compassion, and integrity.
At a Glance
Delivery
Online with on-campus intensives
Finish in as few as
2-3 years
Estimated tuition
$47,652
Contact Us
Request Information
Interested in learning more about Bethel's M.S. in Nurse-Midwifery program? Fill out this simple form and we'll send you more information soon.
Hey! Looks like the form didn't load. If it doesn't load after a second or two, please refresh the page and you should see it. If that doesn't work, please
let us know.
Meet Your Counselor
Kari Boike
At Bethel, we're committed to helping you get the most out of your education. Your enrollment counselor is here to help you balance your program with your personal life and career goals.
Flexible programming
---
Our online nurse-midwifery program allows you to complete a majority of your studies from wherever you're located. We offer two-year and three-year plan options.
Experienced faculty
---
All of our professors are advanced practice nurses and most are nurse-midwives who bring their contagious passion for the profession to their classes.
Ethics-based teaching
---
We focus on ethical healthcare practices, equipping students to respond to moral issues. Courses are taught from a Christian worldview, but students from all faith journeys are welcome.
Personal attention
---
Small classes and intentional online interactions will ensure your academic and career success.
Recent News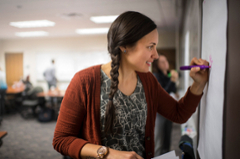 We believe everyone has a story to tell. Envision how Bethel could become part of yours.

Latest News and Stories
Upcoming Events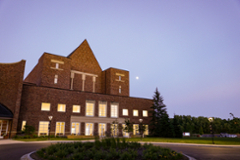 See yourself at Bethel—join us for one of our in-person or virtual events!

More Events
Discover what's next.
Now more than ever, our world needs compassionate and knowledgeable healthcare providers, and Bethel is preparing nurse-midwives who help meet that need. Through the nurse-midwifery program, you'll expand your skills as a healthcare professional, and be equipped to care for clients of all backgrounds—before, during, and long after childbirth.  
1
Only Online Christian Nurse-Midwifery Program in the US
20
states in which students have completed clinicals
The faculty in the Nurse-Midwifery program were unbelievably supportive and encouraging. Even though this is a distance learning program there was never any doubt in my mind that they were beside me every step of the way.
Nicole Hunter '16
Current job: certified nurse-midwife
This has been an intense and challenging program, but I'm learning to never underestimate how following God's path for you can bring such peace.
Rebecca Smith '16
Current job: certifed nurse-midwife
Career Outcomes
Wondering what you can do with a nurse-midwifery degree?
Nurse-midwives provide primary healthcare to women needing gynecologic or maternity care. They serve in hospitals, clinics, private practice, and underserved areas all around the world.
Skills
Learn how to:
Empower clients have fulfilling and peaceful birthing experiences with minimal interventions
Use safe, scientific procedures should they become necessary
Start or direct a nurse-midwifery practice
Teach midwifery in schools of nursing or public health, medical, or allied health settings
Help reduce the maternal and infant death rate in the U.S. and world
Apply nutrition and wellness information to promote healthy lives
Careers
Our graduates will work in:
Clinics
Private practice
Birthing centers
Physician practices
Educational settings
Hospitals/medical centers
Managed care organizations
Employers
Our graduates might work in places like:
Healtheast
Mayo Clinic
Allina Health
Essentia Health
Sanford Health
Minnesota Birth Center
Ridgeview Medical Center
Visit the American College of Nurse Midwives website for more information on the variety of careers in the nurse-midwifery profession.
Start your journey
Apply Now
You're called to accomplish incredible things. Take the next step in your career and fill out our simple, straightforward application today.