Political Science
Political science is about more than just politics. It's about learning what justice requires.
The political science program helps students understand and use the tools of political science to prepare for careers in public life and more. You'll search for truth through acts of justice, liberty, power, order, and peace as they're expressed in political life.
Majors, Minors, and Programs
Recent News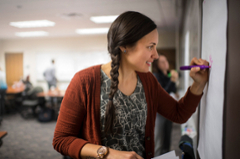 We believe everyone has a story to tell. Envision how Bethel could become part of yours.

Latest News and Stories
Pursuing Your Passion
Our political science program provides the opportunity to pursue your passion for exploring the issues and structures behind political life. You'll discover what it means to be an active Christian and thoughtful citizen in today's world and come to understand the inner workings of political and social institutions. But it's about more than public life. It's also about gaining important skills such as critical thinking and reading, writing, problem-solving, and how to form compelling arguments–skills that will serve you well both in and out of the political arena. Our students come here with unique interests and are excited about examining and evaluating political and social institutions. And they leave prepared to serve in the public, nonprofit, and private sectors. It's about taking our faith in Christ and integrating it into everything we learn, into everything we do, so we can accomplish incredible things—in our careers, in our communities, and in our world.
4
full time faculty in the department
83
students in political science majors
Program Highlights
Hands-on learning
Our proximity to the state capital and Minneapolis provides ample opportunities for internships in political and government offices, area law firms, local media, and nonprofit groups.
Faculty mentoring
Our professors mentor their students—and they're known for their creative teaching methods, including the use of innovative case studies and simulations that bring the field to life.
Student organizations and honor societies
Bethel welcomes political discourse and active, student-run political organizations, including Pi Sigma Alpha, the Political Science Honorary Society. We also send about 15 students to the American Model United Nations International event each fall.
Semester in D.C
The American Studies Program, a semester-long program in Washington, D.C., run by the Council for Christian Colleges and Universities, allows students to study and intern inside the beltway.
I learned many invaluable lessons at Bethel but what stands out was the accessibility of the faculty and their genuine desire to see students succeed. I was never a number in a classroom. Many of those professors remain mentors today.
Allie Ryan '11
Current job: Legislative Correspondent for U.S. Senator Chuck Grassley
Studying Political Science at Bethel greatly influenced my direction and experience now in ministry with the homeless and addicted populations in the Twin Cities. I have gained a more keen eye for the ways power can be used and abused!
David Morrow '04
Current job: Director of Chaplains at Union Gospel Mission
My faith grew immensely during my time at Bethel, in part from being surrounded by so many wonderful friends and mentors who encouraged me to dig deeper. I have been challenged to ask more difficult questions while reconciling my faith with a world filled with so much injustice. Entering into dialogue with others about the messiness in life has really led me to grow closer to God.
Katie Cudo '19
What can I do with a political science major?
Political science students at Bethel use their skills to serve communities through legal practices, political appointments, foreign service, and much more.
Careers
Our political science graduates become:
Lawyers
Teachers
State, local and federal government employees
Diplomats
Foreign service workers
Community service and NGO employees
Poll and campaign managers
Lobbyists
Journalists and communicators
Nonprofit management employers
Ministers
Consultants
Graduate Schools
Our alumni attend
Harvard University
George Washington University
Vanderbilt University
Pepperdine University
University of Minnesota
The University of Virginia
Graduate Fields
Our alumni study
Law
Education
Theology
Communication
History
International relations