The business and political science major provides students with an understanding of the government's role in society and the interaction between economic and political life. Through these studies, students will be prepared for a wide variety of career paths and opportunities to serve in God's kingdom.
Why should I study business and political science?
Students study business and political science for a variety of reasons. Some are interested in working for government agencies in administrative positions, while others focus on the intersection of politics and economics and look forward to careers in economic policy or management. Still others seek careers at large businesses that have extensive interaction with government agencies. The business and political science degree is also useful for students interested in pursuing professional degrees at the master's level, and for students who envision moving between government, business, and nonprofits throughout their careers.
What can I do with this degree?
Business and political science majors have gone on to pursue many different vocations, including:
Business
City management and administration
State or federal government
Law
Graduate study toward an MBA, MPA, or other master's level public affairs degree
What skills will I develop?
Statistical analysis
Accounting
Marketing
Management
Law finance
Research
Policy analysis
Written and oral communication
Critical thinking
You'll also have the opportunity to participate in the R.E.A.L. Experience—a program specifically designed to help you gain the relevant, hands-on experience employers desire—so that when you graduate, you'll be as impressive in practice as you are on paper.
What unique experiences or opportunities will I have?
Internships with private companies, nonprofits, or governmental agencies in the Twin Cities.
American Studies Program in Washington, D.C.
Study abroad through programs offered in the Department of Business to places like India or Europe.
On-campus business or political science clubs
4
full time faculty in the department
20%
department students double major
Recent News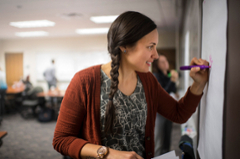 We believe everyone has a story to tell. Envision how Bethel could become part of yours.

Latest News and Stories
I learned many invaluable lessons at Bethel but what stands out was the accessibility of the faculty and their genuine desire to see students succeed. I was never a number in a classroom. Many of those professors remain mentors today.
Allie Ryan '11
Current job: Legislative Correspondent for U.S. Senator Chuck Grassley
My faith grew immensely during my time at Bethel, in part from being surrounded by so many wonderful friends and mentors who encouraged me to dig deeper. I have been challenged to ask more difficult questions while reconciling my faith with a world filled with so much injustice. Entering into dialogue with others about the messiness in life has really led me to grow closer to God.
Katie Cudo '19
Studying Political Science at Bethel greatly influenced my direction and experience now in ministry with the homeless and addicted populations in the Twin Cities. I have gained a more keen eye for the ways power can be used and abused!
David Morrow '04
Current job: Director of Chaplains at Union Gospel Mission