The international relations major is a multidisciplinary degree that equips students with the tools of political science, economics, business, and history to excel in a variety of careers domestically and abroad. Students who complete this major enjoy small class sizes, close connections with faculty, and an emphasis on learning abroad.
Why should I study international relations?
Our world is increasingly globalized, and more professionals need an understanding of the broader world to stay competitive. You'll learn why some countries thrive while others fail. You'll study the history of human rights and work on the puzzles of economic development among the poorest countries on the planet. You'll also have the opportunity to intern in government, at think tanks, and in nonprofit agencies in the Twin Cities and abroad.
What can I do with this degree?
A degree in international relations prepares students for a variety of careers. Our graduates have become:
Foreign Service officers with the State Department
Business associates at companies like Target and Cargill
Teachers in the United States and abroad
Graduates have also found jobs at nonprofit organizations, doing work as diverse as helping refugees settle in the United States to helping end human trafficking networks in India. Of course, our students also go on to attend prestigious graduate schools and law schools like Harvard University, Vanderbilt University, and the University of Minnesota.
What skills will I develop?
Because international relations is a multidisciplinary major, it equips students with a variety of skills. You'll be able to:
Read deeply
Write clearly and persuasively
Communicate cogently
Become well-versed in history and contemporary world politics
Interpret economic data and make plans for your future
You'll also have the opportunity to participate in the R.E.A.L. Experience—a program specifically designed to help you gain the relevant, hands-on experience employers desire—so that when you graduate, you'll be as impressive in practice as you are on paper.
What unique experiences or opportunities will I have?
International relations majors participate in at least one study abroad experience. In recent years, students have studied in:
The United Kingdom
China
India
Egypt
Israel
Belgium
New Zealand
Students also have a chance to network through their experiences abroad once they return to campus. Additionally, many majors participate in BUMUN, Bethel's Model United Nations program; Pi Sigma Alpha, the national political science honorary; and United Cultures of Bethel.
83
students in political science majors
20%
department students double major
Recent News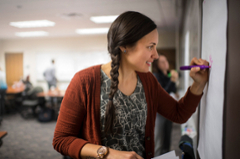 We believe everyone has a story to tell. Envision how Bethel could become part of yours.

Latest News and Stories
I learned many invaluable lessons at Bethel but what stands out was the accessibility of the faculty and their genuine desire to see students succeed. I was never a number in a classroom. Many of those professors remain mentors today.
Allie Ryan '11
Current job: Legislative Correspondent for U.S. Senator Chuck Grassley
My faith grew immensely during my time at Bethel, in part from being surrounded by so many wonderful friends and mentors who encouraged me to dig deeper. I have been challenged to ask more difficult questions while reconciling my faith with a world filled with so much injustice. Entering into dialogue with others about the messiness in life has really led me to grow closer to God.
Katie Cudo '19
Studying Political Science at Bethel greatly influenced my direction and experience now in ministry with the homeless and addicted populations in the Twin Cities. I have gained a more keen eye for the ways power can be used and abused!
David Morrow '04
Current job: Director of Chaplains at Union Gospel Mission