Psychology
Learn to ask "why?" Then explore some answers to that question.
Bethel's department of psychology challenges you to look at the hows and whys of mental processes and behaviors. But we don't just do it through textbooks. Our professors help students apply complex principles to everyday life, and integrate a Christian perspective with current psychological science.
Majors, Minors, and Programs
Recent News
September 20, 2021 | 2:30 p.m.
Upcoming Events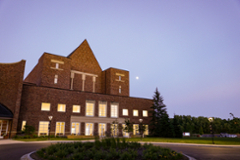 See yourself at Bethel—join us for one of our in-person or virtual events!

More Events
Study how the human mind works and why people behave the way they do.
Explore motivation and behavior and get hands-on experience in researching your questions and theories. Learn to integrate your learning with your Christian faith and discover relevant concepts in the history and theory of psychology, the principles of cognition and behavior, and techniques of research and interpretation of data. Then take what you're learning and apply it  through a practical internship in places like counseling offices, hospitals, corporations, churches, and other settings tailored to your interests, passions, and career goals.
Up to 50%
recent psychology alumni went on to graduate school
Program Highlights
Research with professors
Our accomplished faculty members often give students opportunities to collaborate in their research, in cutting-edge fields such as neuroscience. Many of our students present their research at regional and national conferences. 
Experiential learning
Senior capstone experiences, either an internship or intensive research, provide practical opportunities, giving Bethel's psychology students an advantage when entering careers or graduate schools.
International travel
Study in Europe to learn about the European pioneers of psychology and broaden your understanding of the field.
Formative opportunities in research, clinical experience, career clarity, and preparedness to contribute to integration of psychology and Christianity movement, have all impacted my continuing education. Faculty taught me how to be a Christian scholar and fully engaged in my community.
Ryan Horvis '09
Current job: Clinical Therapist at Stenzel Clinical Services, Ltd. and Outpatient Therapist at Streamwood Behavioral Health Systems
Bethel's psychology program is designed to meet graduate study admission requirements. Writing lab reports and psychological evaluations and presenting at conferences helped set my skills far above my peers, even in my rigorous Master of Science program.
Holly Quimby '13
Grad school: Student at Philadelphia College of Osteopathic Medicine, Philadelphia, PA
What can I do with a psychology major?
Psychology majors at Bethel prepare for careers in the helping professions or for graduate study. They become counselors, school psychologists, behavior therapists, and other specialists in the helping professions and more.
Careers
Psychology graduates are:
Counselors
Psychology professors
Clinical neuropsychologists
Organizational psychologists
School psychologists
Statisticians
Physical therapists
Physicians and dentists
School administrators
Speech Pathologists
Behavior Therapists
Graduate Schools
Our alumni attend:
Bethel's Graduate School or Seminary
University of Michigan
Kansas University
University of Minnesota
Boston College
Marquette University
University of Iowa
University of Washington
Southern Illinois University
University of St. Thomas
University of St. Mary's
Graduate Fields
Our alumni study:
Counseling psychology
Marriage and family therapy
School psychology
Psychometrics
Clinical psychology
Neuropsychology
Developmental psychology
Social psychology
Physical or occupational therapy
Speech pathology
Special education
Medical school
Physician assistant