Neuroscience Major
Bethel's B.S. in Neuroscience is an interdisciplinary major offered by the biology and psychology departments and includes chemistry, mathematics, and related courses. This intensely research-focused degree will prepare you for competitive graduate and medical schools and for success in your future career.
Why should I study neuroscience?
The neuroscience field continues to grow and become more in demand. Our students will be placed at the forefront of demand in emerging careers that utilize the skills and knowledge that a foundation in neuroscience provides. Your Bethel professors possess expertise in their varied research interests and are committed to leading you toward excellence and distinction through hands-on experiences both inside and outside the classroom. The neuroscience degree gives you the flexibility to pursue a wide variety of interest areas while helping you stand out as you pursue advanced degrees and career opportunities.
What can I do with this degree?
Students who major in neuroscience at Bethel will be prepared to pursue graduate programs in:
Neuroscience
Neuropsychology
Occupational therapy
Dentistry
Medicine
Optometry
Physical therapy
Psychology
Psychiatry
Speech pathology
Veterinary medicine
Students can pursue careers in:
Academia
Audiology
Artificial intelligence
Biotechnology
Clinical research
Marketing consulting
Mental health
Pharmaceutical sales
Public Policy
Research
What skills will I develop?
Our students will gain skills in:
Data analysis
Research techniques
Experimental design and interpretation
Behavioral analysis
Human cadaver dissection
Small animal surgery
Critical thinking
Written and verbal communication
Understanding the relationship of science to biomedical, economic, and ethical opportunities and challenges
Integrating the Christian faith with neuroscience
You'll also have the opportunity to participate in the R.E.A.L. Experience—a program specifically designed to help you gain the relevant, hands-on experience employers desire—so that when you graduate, you'll be as impressive in practice as you are on paper.
What unique experiences or opportunities will I have?
Conduct Independent Research
Students will complete a research project one-on-one with a faculty member, and professors help students access research opportunities outside of Bethel. The research-focused intensity of the neuroscience major is unique to Bethel and gives students the research and publication experience that graduate schools look for in applicants.
Gain Extensive Lab Experience
The blending of biology and psychology provides students with skills in animal and human research techniques. Bethel's research methods course includes 8 hours of lab each week.
Complete Pre-Med Requirements
Students can choose the course of study built into the neuroscience major that will allow them to complete all pre-med requirements.
Up to 50%
recent psychology alumni went on to graduate school
Recent News
December 09, 2022 | 10:30 a.m.
Upcoming Events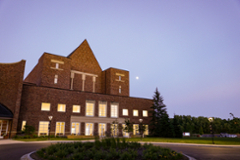 See yourself at Bethel—join us for one of our in-person or virtual events!

More Events
Formative opportunities in research, clinical experience, career clarity, and preparedness to contribute to integration of psychology and Christianity movement, have all impacted my continuing education. Faculty taught me how to be a Christian scholar and fully engaged in my community.
Ryan Horvis '09
Current job: Clinical Therapist at Stenzel Clinical Services, Ltd. and Outpatient Therapist at Streamwood Behavioral Health Systems
Bethel's psychology program is designed to meet graduate study admission requirements. Writing lab reports and psychological evaluations and presenting at conferences helped set my skills far above my peers, even in my rigorous Master of Science program.
Holly Quimby '13
Grad school: Student at Philadelphia College of Osteopathic Medicine, Philadelphia, PA