Accounting & Finance Degree | Bethel University
Our bachelor's degree in accounting and finance is a technical degree for students who want to become CPAs while still gaining a well-rounded business background.
What can I do with this degree?
An accounting and finance degree is a gateway to careers in certified public accounting and related fields. Bethel's degree meets the required credit hours for taking the Certified Public Accountant exam (150 credits) for CPA licensure in the State of Minnesota. Through the development of critical thinking skills, our graduates are well-prepared to meet the challenges of providing insight and strategic direction. Finance knowledge provides a valuable support to leaders across functional areas in all organizations. 
Our accounting and finance alumni work as CPAs in:
Accounting firms
Corporations
Not-for-profits
Auditing firms
Consulting firms
While most accounting and finance graduates are working as CPAs, some are in related fields as:
Financial analysts
Business analysts
Credit analysts
Investment analysts
Financial planners
Bankers
Corporate finance support positions
Corporate audit functions
Insurance underwriters
What skills will I develop?
Wondering whether an accounting and finance major is worth it? Our degree program will prepare you to  analyze decisions through the use of financial models—a skill that is foundational to critically evaluating the choices organizations need to make in order to maximize the return on invested capital. Moreover, you'll develop skills in:
Excel modeling
Financial forecasting
Valuation models
Sensitivity analyses
Tax preparation
Qualitative risk analysis
Effective presentation of financial data
Succinctly support decision making
Development of a global perspective of the role of finance
Problem solving related to partnerships, mergers, and international and government accounting
Data analysis
Strategic thinking
Ethical reasoning
You'll also have the opportunity to participate in the R.E.A.L. Experience—a program specifically designed to help you gain the relevant, hands-on experience employers desire—so that when you graduate, you'll be as impressive in practice as you are on paper.
What unique experiences or opportunities will I have?
Students in the accounting and finance major will have the opportunity to participate in:
International Market Issues course study abroad option during interim
Development and implementation of investment portfolios
Group and individual simulations to assist financial decision-making
Tutoring leadership for fellow students
Student leadership positions across campus
$1.2 million
managed by students in the Student Managed Investment Fund
95%
or more alumni reported being prepared for current job
Upcoming Events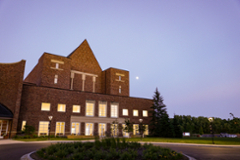 See yourself at Bethel—join us for one of our in-person or virtual events!

More Events
I'm so grateful for my Bethel experience! I cultivated deep friendships and had wonderful leadership and spiritual development opportunities. Combined with, the learning experience and faculty relationships through the Communications and Business departments, it all prepared me for great leadership opportunities.
David Horsager '95, GS'07
Current job: Author, Speaker, Consultant and CEO, Horsager Leadership, Inc.
Bethel really prepared me...having a liberal arts education was beneficial because it made me well rounded. [Businesses] look for people with all sorts of different backgrounds and leadership experience. Bethel encourages people to get involved.
Nicole (Nettleton) Willenbring '12
Current job: Business Analyst, Target Corporation
As a Christian in the workplace, I am able to connect with people on a different level. I know my reason for being there and do my part to create an encouraging work environment for my coworkers. I hope my attitude is a positive example observable through the way I make decisions, treat my clients, and strive for excellence every day.
Andrew Vennerstrom '07
Current job: Customer Account Manager, Frozen Organic Products, General Mills
While interviewing with a Bethel alum for a position at UnitedHealth Group, the interviewer asked me to consider joining the International Audit department instead of the position for which I had applied. At the time, I had next to no idea what working in International Audit entailed! That same Bethel alum also connected me to the Healthcare Reform opportunity three years later. So, it's safe to say that my career path was undeniably influenced by Bethel and this wonderful alum who decided to take a chance on me – not just once, but twice.
Chin-Chin Lin '09
Current job: Project Manager, Health Care Reform Implementation, UnitedHealth Group