The strength of an organization is to acquire and develop human capital in order to design, implement, and execute strategy. The human resource professional takes organizational problems and creates employee solutions.
The HR function is essential to developing and maintaining an effective workforce, well functioning teams, and a healthy organizational culture. This emphasis has a dual focus. It is designed for students who will work in the field of HR. It also serves as a strong management foundation for anyone who will be managing, regardless of the area of business in which they work.
Bethel's program has been recognized by the Society for Human Resource Management (SHRM) for aligning with national standards for HR professionals.
What can I do with this degree?
Human resource management has applicability in a wide range of settings, including nonprofits, education, government, for-profits, consulting firms, and more. Some common job titles for those going into HR fields include:
HR business partner
Recruiter
Compensation and benefits analyst
Talent manager
Training coordinator
Organization development and effectiveness specialist
Manager
Some of our graduates choose to go on to earn a national HR certification through Human Resource Certification Institute (HRCI) or the SHRM.
What skills will I develop?
HR expertise
Systems thinking
Relationship management
Data and financial analysis
US employment law and regulations
Critical thinking
Strategic planning
Effective stakeholder communication
Collaboration and teamwork
Change management
Conflict management
Diversity, inclusion, and cultural competency
Integrating ethics and core values into business decisions
You'll also have the opportunity to participate in the R.E.A.L. Experience—a program specifically designed to help you gain the relevant, hands-on experience employers desire—so that when you graduate, you'll be as impressive in practice as you are on paper.
What unique experiences or opportunities will I have?
Compete against an international group of students in a simulated business environment, the GLO-BUS
Develop a comprehensive talent management portfolio
Design and develop a total rewards program for a mock company
An internship to connect classroom learning to practical experience
As a student, you'll also have the opportunity to join professional associations such as SHRM and the Twin Cities Human Resource Association
93%
first-year students who rated their first-year experience as either good or excellent
Nearly 90% of first-year students returned their second year.
Recent News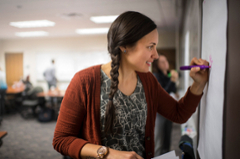 We believe everyone has a story to tell. Envision how Bethel could become part of yours.

Latest News and Stories
Upcoming Events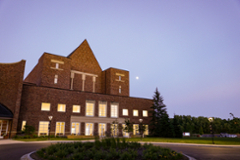 See yourself at Bethel—join us for one of our in-person or virtual events!

More Events