With a strategic leadership degree, you'll learn to use your strengths to lead collaborative teams that make a difference.
At a Glance
Delivery
Blended, Online, and Face to Face
Finish in as few as
18 months
Estimated tuition
$20,520
Contact Us
Request Information
Interested in learning more about Bethel's M.A. in Strategic Leadership program? Fill out this simple form and we'll send you more information soon.
Hey! Looks like the form didn't load. If it doesn't load after a second or two, please refresh the page and you should see it. If that doesn't work, please
let us know.

Meet Your Counselor
Dwayne Nabors
At Bethel, we're committed to helping you get the most out of your education. Your enrollment counselor is here to help you balance your program with your personal life and career goals.
Experience-based learning
---
You'll draw on your experience while developing practical leadership skills for any environment.
Personalized career coaching
---
One-on-one coaching sessions will help you navigate the changing nature of your work and consider your next steps toward personal and professional growth.
Values-based instruction
---
Through course activities, you'll discover new ways to integrate your faith and your work.
Supportive faculty
---
Our professors are experts in their fields and passionate about seeing you succeed and grow.
Flexible programming
---
With online, face-to-face, or blended options, our program is designed to work for you—wherever you're at and wherever you're going.
Holistic development
---
We use the "PIPES" model to focus our approach to your development: you'll grow professionally, intellectually, personally, ethically, and spiritually.
Unique dual-degree option
---
Only Bethel offers
a dual-degree option
that will set you apart. Our M.A. in Strategic Leadership program shares leadership courses with our
MBA program
, so you can complete the MBA by adding only six to seven courses after completion of the M.A. in Strategic Leadership. In three years, you'll hold two master's degrees and possess the technical and leadership training to excel in any environment.
Recent News
February 02, 2022 | 2 p.m.
Upcoming Events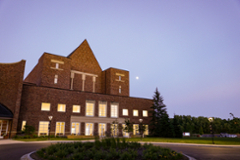 See yourself at Bethel—join us for one of our in-person or virtual events!

More Events
Preparing Confident, Strategic Leaders
At Bethel, we believe that leadership is enhanced by strategic thinking. With an M.A. in Strategic Leadership, you'll become a leader who aspires to greater things, helps those around you thrive, thinks critically about decisions, builds successful and innovative teams, identifies new opportunities, adapts to changing environments, and communicates and executes an inspirational vision.

Our strategic leadership degree features highly regarded graduates, distinguished faculty, relevant instruction, a convenient schedule, valuable networking, and community, all within a Christian learning environment. You'll be prepared to make a difference in our world and inspire others to use their God-given talents to accomplish incredible things.
Top 10
online leadership program nationwide
- College Consensus
$88,850 - median income of recent MASL graduates
- Minnesota Office of Higher Education SLEDS Database
Bethel's strategic leadership program equipped me with values-based, practical leadership skills that I could put to immediate use. My professors modeled excellence in leadership and were clearly passionate about growing leaders to serve and be a positive influence in our world. The program has given me the tools and the confidence to become a catalyst for positive change.
Tonya Anderson '16
Current job: RN
Career Outcomes
Outcomes
Your strategic leadership degree will help you gain the skills and knowledge you need to be a confident, innovative, successful leader. Our graduates work at prestigious organizations in a variety of career fields.
Skills
Learn how to:
Build and lead innovative, successful, thriving teams
Serve in a complex global environment
Address leadership challenges from a Christian perspective
Apply Christian ethics to your leadership and management work
Pursue a new vision, support innovation, and help others excel
Foster healthy leader-follower relationships to help develop the next generation of leaders
Hone your leadership skills as you learn to think critically and make wise decisions
Employers
Our graduates work at:
Target
Medtronic
UnitedHealth Group
Wells Fargo
Honeywell
Boston Scientific
Cargill
Best Buy
M Health Fairview
Local, state, and federal government
Nonprofit organizations
Churches
Start your journey
Apply Now
You're called to accomplish incredible things. Take the next step in your career and fill out our simple, straightforward application today.
Apply
Ready to accomplish incredible things? Get started today—the whole process can take you less than 30 minutes!
Visit
Why Bethel? See for yourself. Join us for a campus visit or sign up for an online info session and get to know our exciting community.
Inquire
Want to learn more about what Bethel has to offer? We're happy to get you the information you need.